Rina is the largest village in the stunning Valley of Vathy. The view overlooking the village and the valley is amazing if you arrive from Pothia. But it is almost as wonderful if you get there from the other direction, from Arginonta, so we come from that direction.
The distance between Arginonta and Rina is about 15 kilometres long and goes along majestic mountains and deep valleys, and ends in a beautiful lush valley called Vathy. It is a big chance to see many birds of prey here. We have for example seen Short-toed snake eagle and Booted eagle, two pretty unusual predators.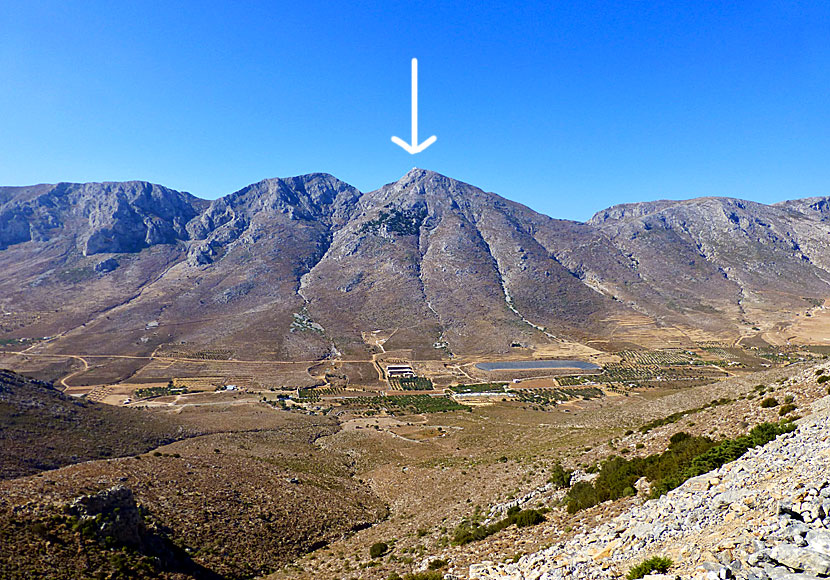 Part of Vathy valley. Profitis Elias lies under the arrow at the top of the mountain.
When you come down to the valley, the road turns left. Shortly after you have turned left, you pass a dam. If you look up in the mountains, you see the small chapel of Profitis Elias. It is the highest peak on Kalymnos. One can not but wonder how on earth they could manage to build a chapel there. From here it is straight ahead to Rina, which is the last village in the valley. Before you reach the sea, you pass some small villages, and several gardens planted with various crops and fruits: mainly mandarins, lemons, tomatoes and grapes.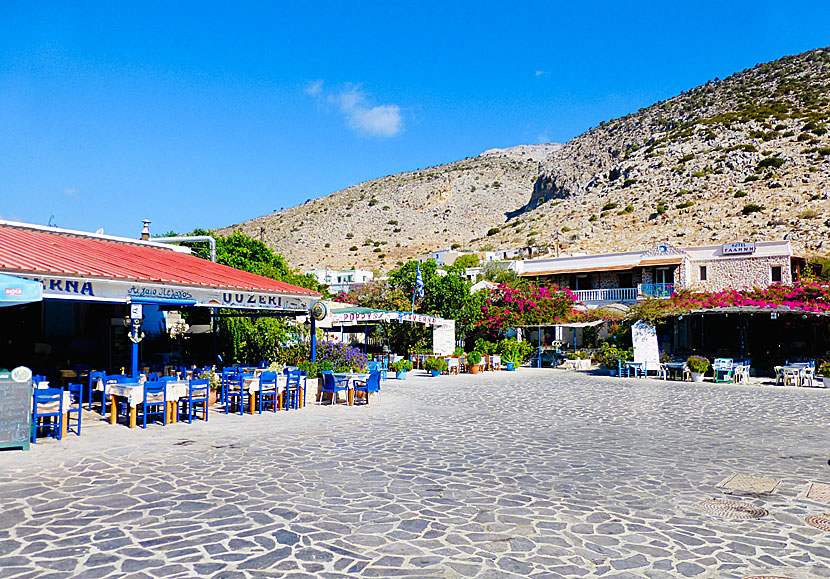 Tavernas in the port of Rina.
One of the small villages in the Valley of Vathy is Metochi that might not be so much to see. Apart from a few houses here is a church, quite nice in itself, and a large football field with a real stand. One will be really surprised to find such a large football field in such a small village. Who plays here? Metochi United? The next village is slightly larger and is called Platanos. In the middle of the road, in the "centre", grows a large plane tree that gave the village its name. To the left of the plane tree is a gas station and a small kafenion.