There are many hotels, some are really flashy, and several restaurants along the seafront. You can walk up into the village itself from the seafront. You will find tavernas, cafes, ouzeries, grocery shops, clothing shops, scooter and car rental places and other things along the streets.
The waterfront in Georgioupolis.
Everyone will sooner or later end up in the big square, which is Georgioupolis' heart. The square is ringed by tavernas, cafes and bars, as well as some gyros places. The square revive in the evening, then the square is closed to all car traffic and people are streaming in to watch and to be watched, have a drink or maybe eat some food.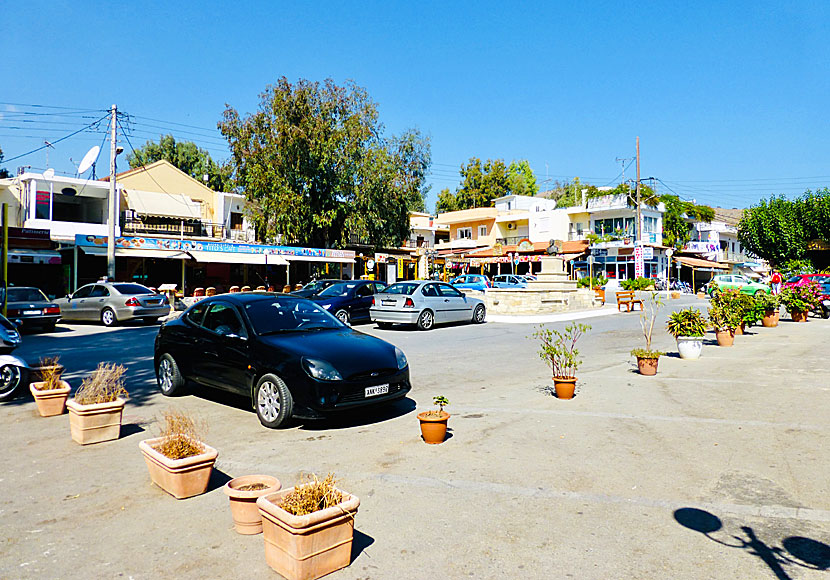 The square in Georgioupolis is closed to traffic in the evening.
ACCOMMODATION IN GEORGIOUPOLIS
I have not stayed overnight in Georgioupolis so I can not recommend any accommodation. However, I have received tips about a fantastic pension located above Georgioupolis, in the small village of Exopoli. The pension is called Alkion, and I would love to stay there for a few nights.
Book other hotels in Georgioupolis here »

Georgioupolis is located about 45 kilometres east of Chania, and about 25 kilometres west of Rethymnon.
The major attraction near Georgioupolis is Lake Kournas, which is Crete's largest lake. It is about 4 kilometres to the lake, some choose to walk, you can also go by tourist train from Georgioupolis, and of course you can use your own vehicle.