The pebble beach below the old olive oil factory is not by a long way as good as the beaches of Anaxos and Petra. The beach is long, narrow and quite shallow on its places. The pebbles are large and it can be difficult to get into the water without thongs. Many choose to use the sun beds above the beach where there is shade from tamarisk trees, some tavernas and a small swimming pool that may be used by the public. The old olive oil factory houses the Hotel Olive Press, the location belongs to the coolest one can imagine.
East of Molyvos are two beaches: Eftalou and Anargyri.

As mentioned, the village is extremely attractive, the beautiful stone houses climb patiently through the cobbled streets and alleys up to the castle. It's easy to get lost in the meandering narrow alleys. The Turks occupied Molyvos for 200 years and it have left its marks, for example the many fountains from that time. Here are, of course, shops of all kinds, not least along the so-called market street where the tourist shops are far too many.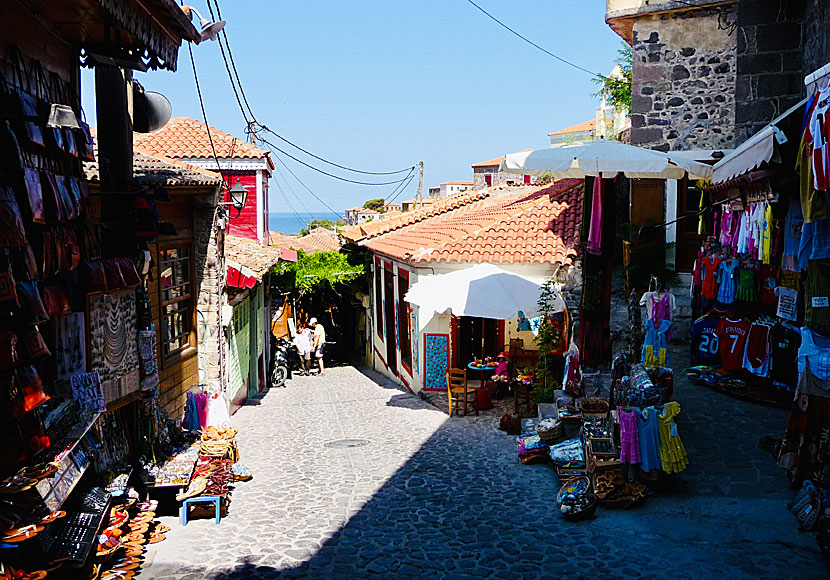 Alleys in Molyvos Old Town.
The port below the village is perhaps the most cosy part of Molyvos. It's a living port with colourful fishing boats and it's a pleasure to watch the fishermen when they mend their nets and divide their catch. Here are also several tavernas with tables strategically placed along the quayside. Our favourites are Captain's Table and The Octopus. If you want to have a drink, then Mollys Bar is a good choice. The port is closed to motor traffic after 18:00.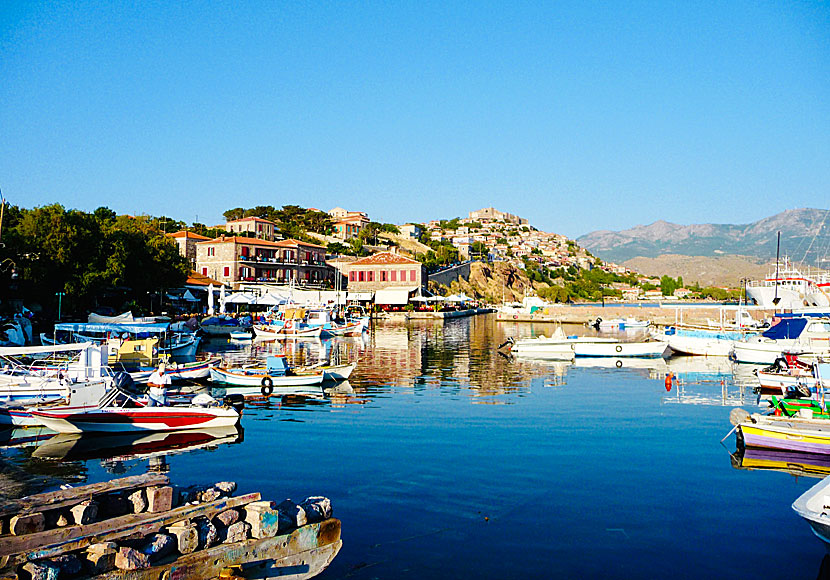 The cozy fishing port below Molyvos.
Here are several cosy tavernas, bars and cafes. The excursion boat to Skala Sikaminias departs from here. It is 5 kilometers between Petra and Molyvos.
ACCOMMODATION IN MOLYVOS
There are plenty of hotels and pensions in Molyvos. Some are pre-booked by package-holiday operators, but there is also good accommodation options for those travelling independently.
The Schoolmistress With The Golden Eyes »
Marianthi Toroz Rooms & Studios »

Book other hotels in Molyvos here »