Many villages in Santorini offers magical views overlooking the caldera, but the question is whether or not the view from Imerovigli is the most beautiful. The houses in Imerovigli literally balances at the edge of the cliff, and if I could afford it I would be more than happy to spend a few nights in one of the hotels that like birds' nests clings to the cliff side. Imagine to sit and swing the legs from the edge of the pool and feel the sea's attractive force 300 metres below. Wow!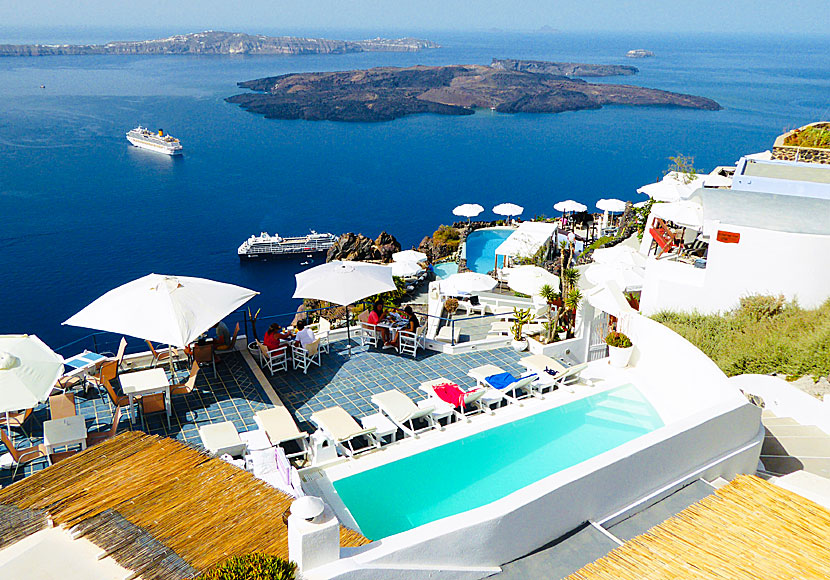 View of the caldera and volcanoes from Imerovigli.
In front of Imerovigli lies the rock of Skaros. Skaros was inhabited during the Middle Ages when there was a castle built on top of it that offered protection against pirates. Almost all vestiges of the castle, and the other buildings that stood there, have unfortunately been destroyed during the many earthquakes that hit Santorini. It is possible to visit Skaros, there is a path leading from Imerovigli.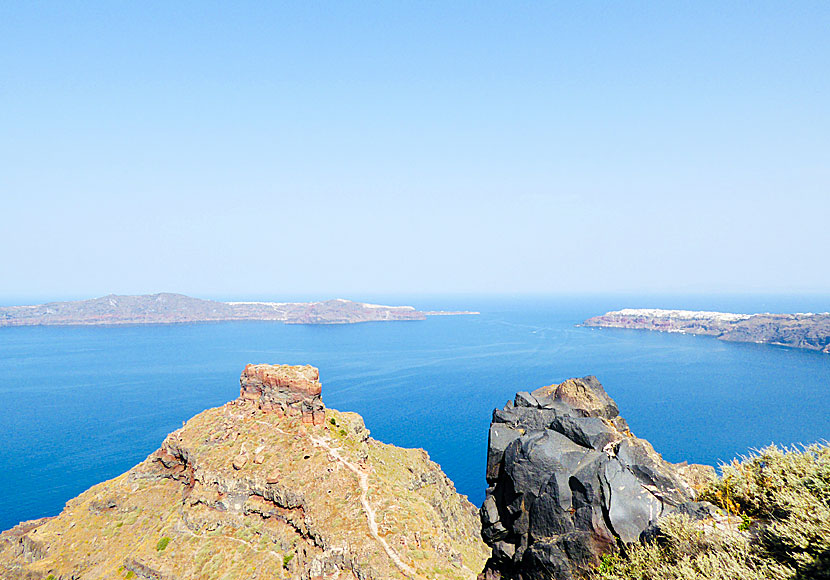 Skaros rock below Imerovigli. Thirasia in the background and Oia to the right.
ACCOMMODATION IN IMEROVIGLI
The question is whether there are more good hotels in Imerovigli than it is in Fira and Firostofani. If you are going to stay here, the difficulty is not to find a hotel, the difficulty is to choose which hotel. Unfortunately, I can not advise because I have not stayed in Imerovigli. But I have gathered a few tips, and it is Absolute Bliss, Andromeda Villas and Villa Lukas.