BEACHES IN POROS
All beaches are on the south coast and consist of sand or pebbles. It is about the same distance to the beaches west of Poros Town, as to the beaches east of the town.
The first beach in the east is Kanali beach, there after is Askeli beach (see picture above), which is Poros' longest, best and most popular beach. There are sun beds and umbrellas for rent and there are many tavernas, and also rooms for rent.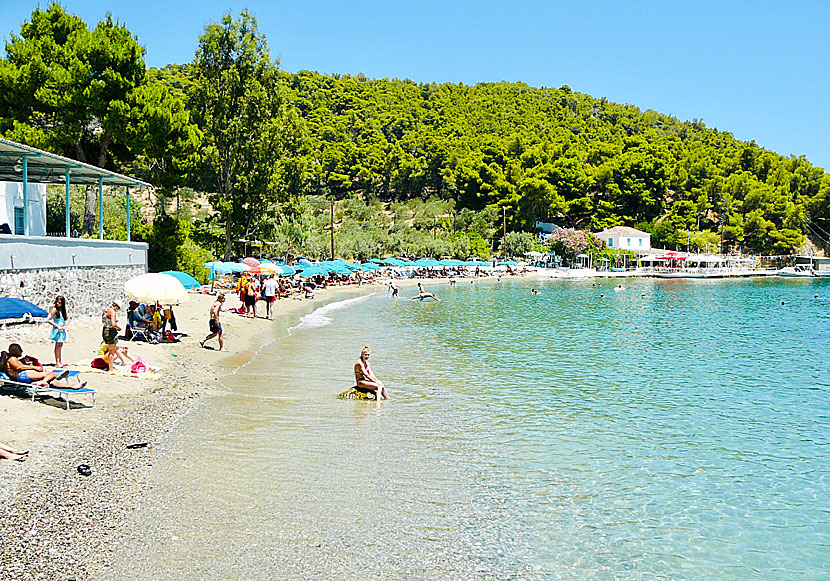 Monastiri beach is located below the monastery of Zoodochos Pigis.
At the far end - below the monastery of Zoodochos Pigis - lies the beach of Monastiri. Here, too, there are several tavernas with a good location right by the sea. However, the beach is not as nice as Askeli.
The first beach west of Poros Town is Micro Neorion, followed by Calypso bay and Megalo Neorion. I think the latter is the best of these three. Along the beach there are several tavernas with tables directly in the sand. Here one gladly linger away a lot of time enjoying lunch and people watching.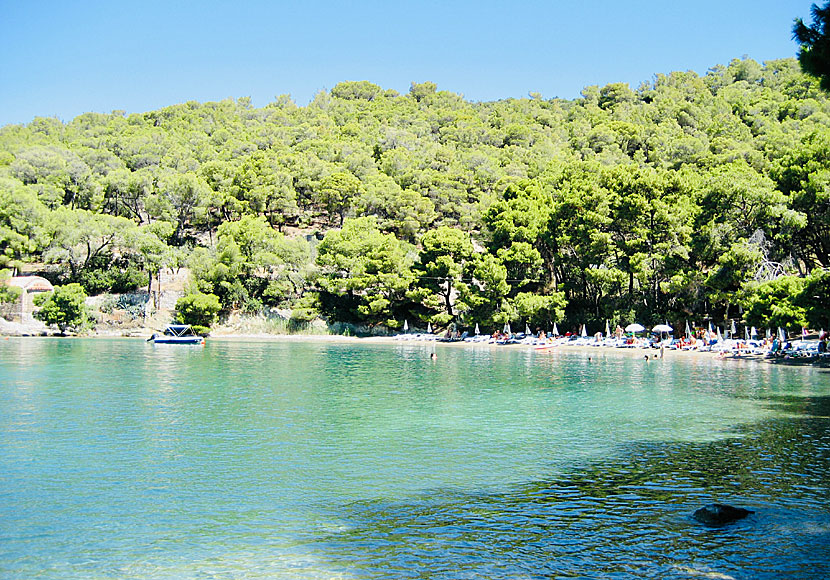 Love bay beach has a beautiful location.

A little further west is Love bay, a nice little beach framed by pine trees. The last beach is called Russian bay which is a pretty pebbly beach, but it has a nice location. The name of this beach derivers from the naval base that the Russian had here in the early 19th century. Remains from one of the buildings still remain.

SIGHTS IN POROS
There are few sights besides Poros Town, which I think is the most worth seeing on the island. If you like monasteries, you should visit Zoodochos Pigis, not least for the beautiful surroundings. Almost in the centre of the island are the remains of a Poseidon temple, but it is so ruined that there is nothing to see.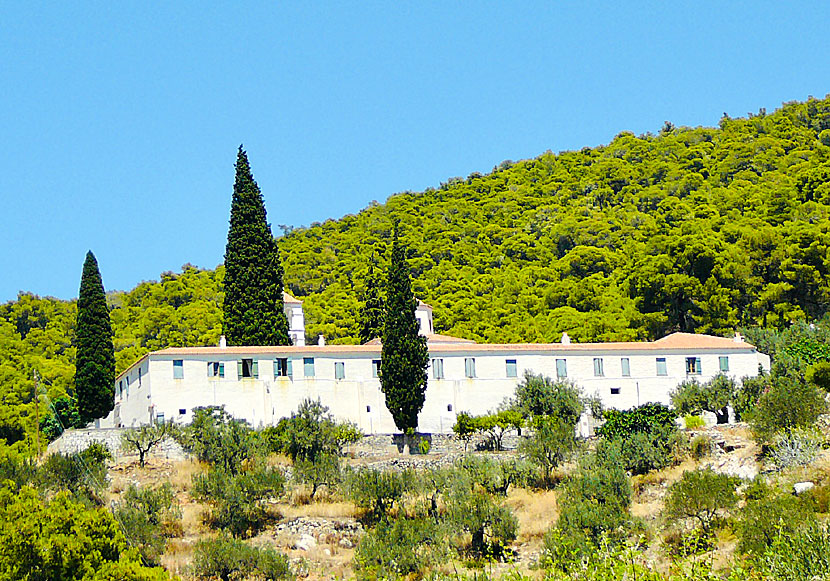 The monastery of Zoodochos Pigis.
ACCOMMODATION IN POROS
There is a wide range of hotels and pensions in Poros Town, and at some of the beaches. You can also stay in Galatas and go by boat to Poros. Many do so. Sometimes letters of rooms show up when the ferries dock at the port, sometimes not. We have not had any problems arranging accommodation on site, but it is still safest to book a hotel in advance. Next time we go to Poros we will stay at Panorama Apartments, which many of the readers of Kalimera (the Swedish version of Kalispera) recommend.
Book Panorama Apartments here »
Book other hotel in Poros here »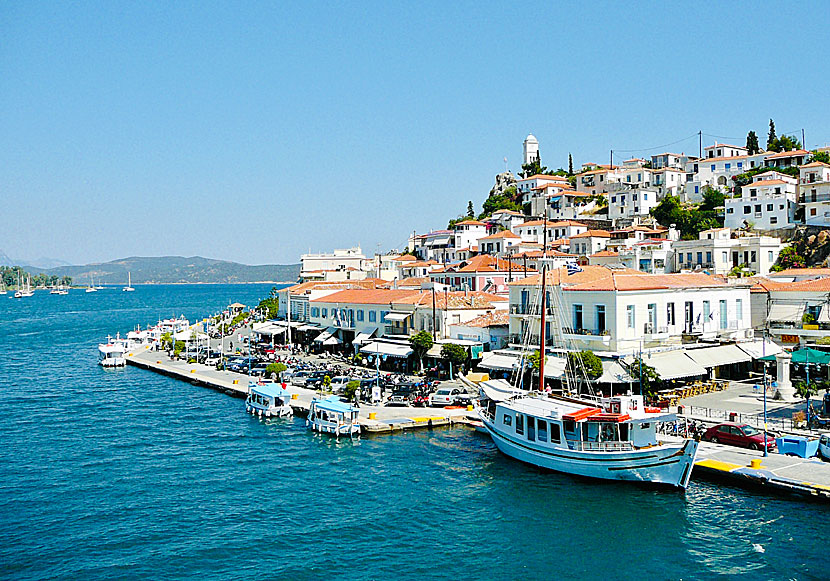 Part of the waterfront of Poros Town.
From here the boats departs to Galatas in the Peloponnese. The Clock Tower at the top of the picture is good to have as a benchmark so you do not get lost in the alleys.