Here is a brief summary of what happened:
The monastery served as a stronghold for freedom fighters who participated in the rebellion against the Turks. The Turkish Pasha in Rethymno issued an ultimatum that the monastery would stop shelter the Cretan freedom fighters, if not the monastery would be destroyed. Abbot Gabriel in Arkadi refused to obey the Turks.
Then the Turks attacked Arkadi with about 15,000 soldiers in November 1866. There were 964 people inside the monastery, most women and children, only 325 of them where men and the ones that where supposed to defend the monastery.
The Cretans feared to be captured by the Turks, who were known for their cruelty. They were more afraid of the Turks than of death. Abbot Gabriel decided that they would try to resist. They did fight, but it didn't help since the Turks were superior in number. In the evening of November 9, the Turkish cannons destroyed the doors and they entered the monastery.
At the same time, the Cretans had run out of ammunition and many of them were forced to fight with knives and bayonets. As you can see, it was impossible for the Cretans to defend themselves.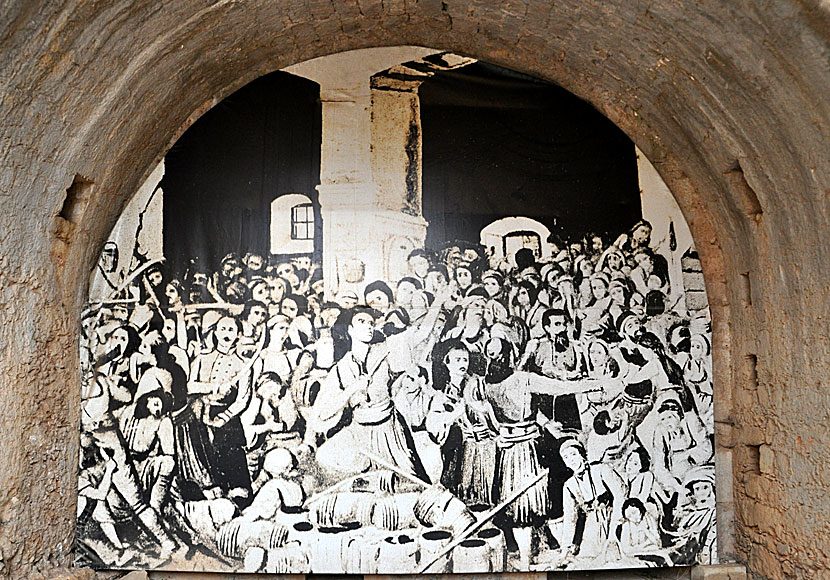 The powder magazine that Konstantinos Giaboudakis blew up.
The majority of the women and children who survived hid in a gunpowder magazine. The patriot Konstantinos Giaboudakis went to the gunpowder magazine. He brought a torch that is said to have belonged to Abbot Gabriel.
When the Turks arrived at the door of the powder magazine, Konstantino took the torch and set fire to the gunpowder, resulting in a huge explosion, and numerous of dead, both Cretans and Turks. Afterwards, the Turks looted the monastery and then proceeded with their killing. Of the 964 Cretans who hid in the monastery, 3 escaped, 114 were captured and imprisoned in Rethymno, the rest of them died in the explosion or were killed by the Turks. About 1,500 Turks died.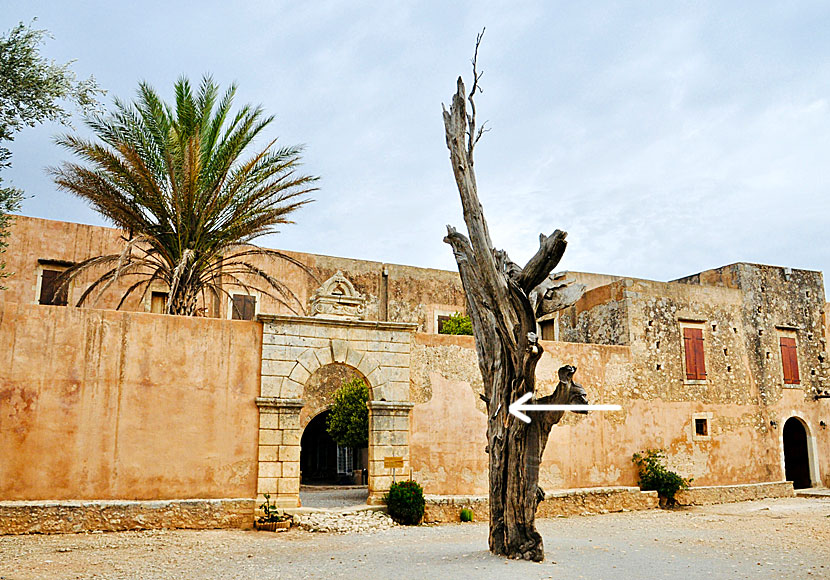 In the cypress on the right, is a bullet left from the battle of Arkadi.
In the picture above I have drawn an arrow above an old cypress. In the tree are a bullet from a Turkish weapon. As said, there is many interesting things to tell about Moni Arkadi, not just about the massacre, so buy a book to learn more.
Anyway, don't miss to visit this very interesting monastery. The monastery is open every day between 09.00-20.00 in season, other times of the year they close earlier.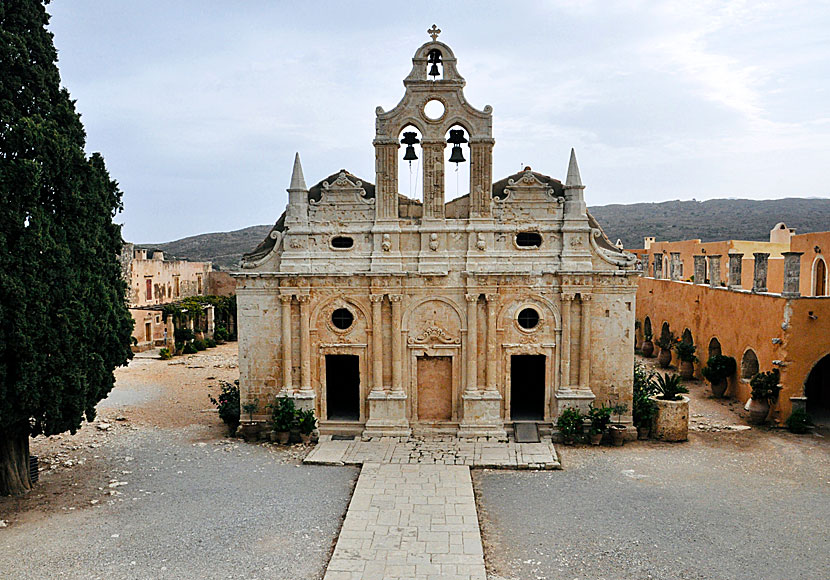 The Monastery of Arkadi.
If you stay in Rethymno or its vicinity, I think you must visit this very interesting monastery. If you want to go for a swim after seeing the monastery, go to Plakias on the south coast, preferably via the nice village of Spili.