Triopetra, about 50 kilometres south of Rethymno, is one of my paradises in Crete. The village and beach are just a few kilometres from one of my other favourite villages, Agios Pavlos. Maybe you agree with me that Triopetra is a paradise when you have been here, maybe not. It depends on how your relationship is to the words seclusion, stillness, silence and simplicity.
The sunset in Triopetra is magical.
When I feel stressed at home in Sweden, I often think of Triopetra, how peaceful there is, and also of the relaxing atmosphere. One and all should be able to experience this incredible place. If doctors had the opportunity to prescribe a week in Triopetra to all stressed metropolitan residents, we might not have any burnt out people.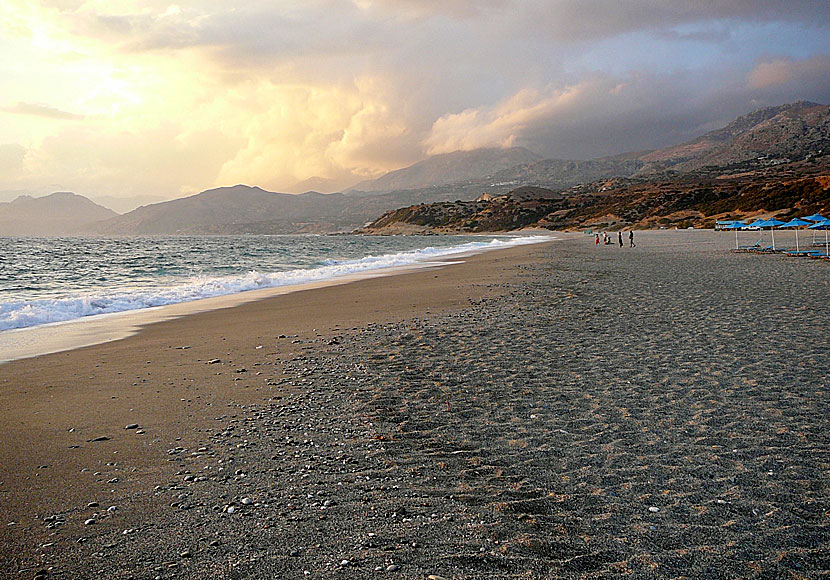 The beach in Triopetra in one direction.
The neighbouring village of Agios Pavlos appears to be a big city in comparison to Triopetra. Here you can really talk about small-scale tourism. Imagine a long and wide sandy beach with a few sun beds along a gigantic sea, surrounded by beautiful mountains, and you have Triopetra in front of you. There are only a few tavernas and pensions. That such a divine place has remained unexploited is a mystery to me. A mystery I hope I will never experience as solved.