The village was built between 600 and 800 AD as protection against pirates in an inaccessible area. The houses were built in natural stone and go well with the surroundings, which made discovery difficult.
Today are many of the houses painted in bright pastel colours, the insulation has been broken for a long time and tourists have taken over the pirates' role as intruders. Despite the large flow of tourists, Olympos still belongs to one of the most worth seeing villages in Greece and is often called a living folklore museum. To some extent it is true, for example do many women still wear traditional costumes, but Olympus is also a tourist trap.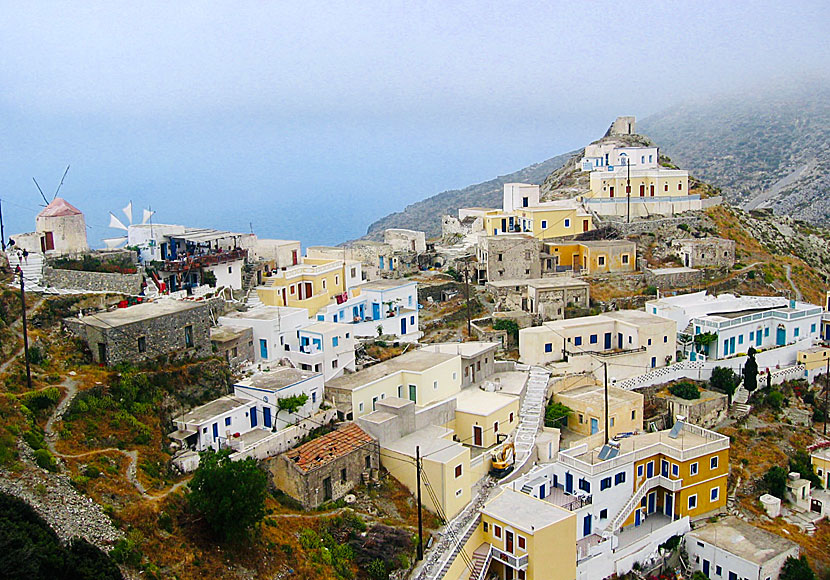 There are those who will be greatly disappointed, the narrow main alley is lined with sellers trying to sell the same junk like the souvenirs shops do in Pigadia. But if one deviates a little from the main alley and aimlessly stroll around in the labyrinthine alleys a new world will open, a world that is found to be in a completely different era.
There are many tavernas to choose from, which one that is the best is difficult to say, most have the same menu. Instead, the location have to determine, several stands insanely beautiful with sensational views over the valley, or overlooking the sea. Next to two windmills on the side of the village facing the sea lies one good taverna where the food is prepared in a stone oven, just like in olden times when all houses in Olympos had a oven outdoors.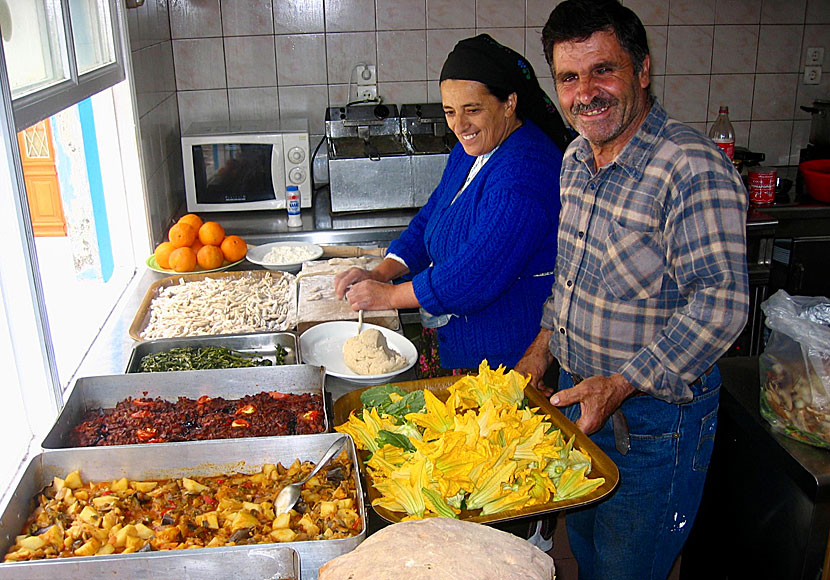 Preparing of Makarounes in Olympos.
Olympos' specialty is Makarounes, a hand-rolled fresh pasta mixed with onions and cheese. It is served on all the tavernas, including at Restaurant Olympos which in my opinion is one of the better tavernas in the village. Restaurant Olympos lies along the main alley at the very beginning of the village.
Although one initially might be a little disappointed of Olympos, the village's beauty and mysticism will improve as time is getting on. But you have to deviate from the tourist areas, like to go up to the windmills and gaze out over the surrounding area, absorb the views, close your eyes and draw on your imagination. Visualize that people lived this isolated during hundreds of years.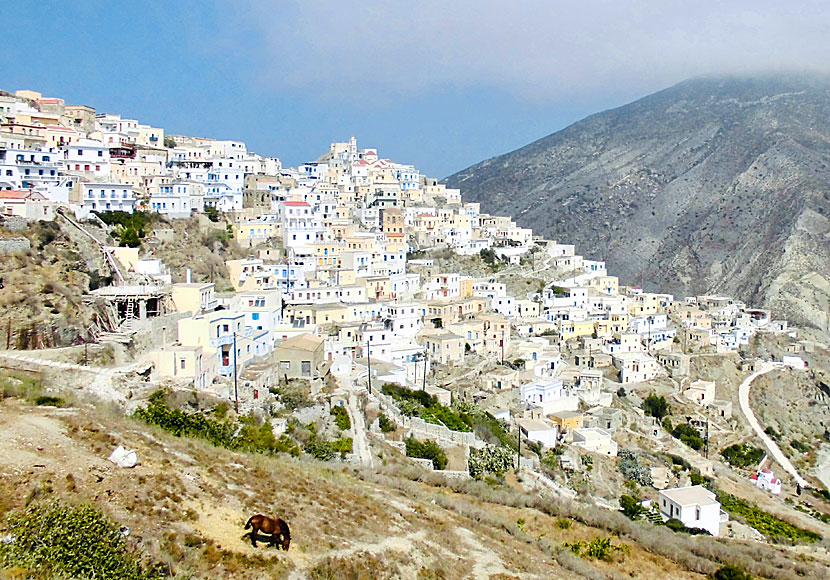 The mythical village of Olympos in Karpathos.
Olympos lies about 40 kilometres from Pigadia and about 20 kilometres from Spoa. You get here by your own vehicle, by excursion boat or by bus from Pigadia. ATM are available since June 2017.