The absolutely most beautiful part of Mykonos Town is Little Venice with its beautiful houses with wooden verandas and balconies. Some windmills stands to the left of Little Venice, they are watching over the gathering of people and the tavernas. One of the windmills looks almost alive from the side, the straw on top looks like a hat and the small windows look like eyes. The view over Little Venice and the sea is magnificent from the windmills.
Numerous of restaurants and bars are lining the seafront in Little Venice, the food do not tastes as good as it costs, but the surroundings are among the most charming you can imagine. The beautiful houses form a stylish background and the sea is so close that you can dip your feets from the chair. Of course the windmills above contribute to the fact that Little Venice feels like a magical place. In the evenings, Little Venice is filled with tourists having a drink or watching the famous sunset.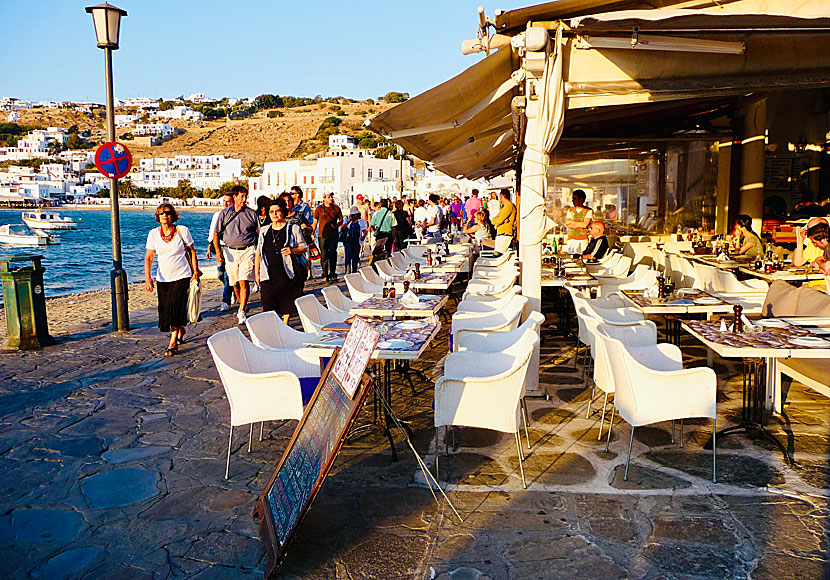 The waterfront promenade in Mykonos Town.
Along the waterfront in the old port there are several bars perfect for people-watching. If you want to people-watch, there's hardly any better place to spend money. The Pelican Petros usually come by, hoping to steal something to eat. Behind the Town Hall in the port lies Nikos Taverna which is one of the nicest restaurants in town. The waiters are stressed like crazy and the atmosphere is hectic and fast-paced, but the food is good and the prices are almost normal.
The night entertainments are almost unlimited and the selection of restaurants are huge, if you get tired of Greek food you can eat Italian, Chinese or why not Mexican. There are also a number of fast food places for those who are in a hurry or do not have so much money. Because it is usually expensive to dine out in Mykonos Town. Of course there are exceptions, but you must search before you find restaurants with normal prices.
Mykonos is a top destination for a vivid nightlife and there is certainly many discotheques and bars that open late and close early in Mykonos Town.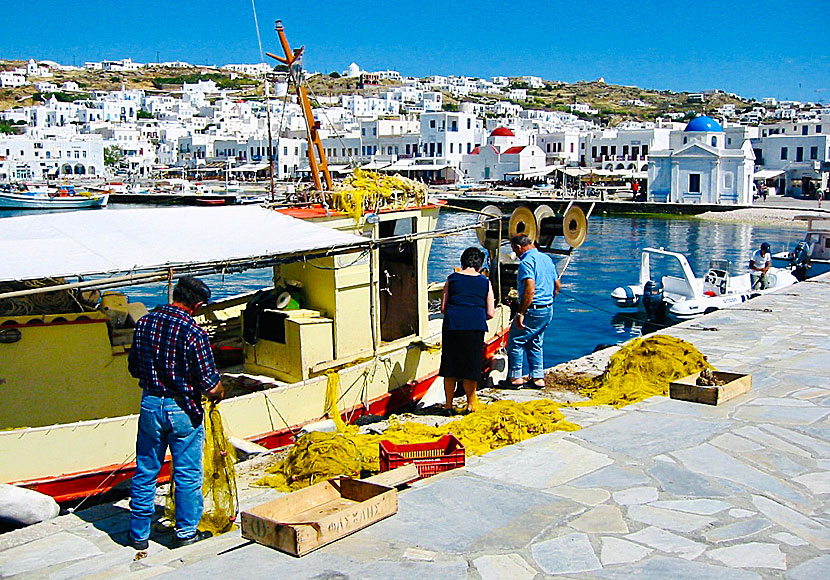 The small port in Mykonos Town.
The major attraction in Mykonos Town is, besides the village itself, the church of Panagia Paraportiani. In a Greek guidebook about Mykonos, you can read the following about the church: "The most photographed monument on the island and one of the most photographed churches in the world".
When you read such a thing you naturally become very curious. Imagine that one of the most photographed churches in the world can be found in Mykonos. But, one must bear in mind that Greek-produced guidebooks are extremely subjective. True is that Paraportiani is one of the most popular churches to photograph in Mykonos, but hardly in the whole world, I'm sure it's low down on the list, even in Greece.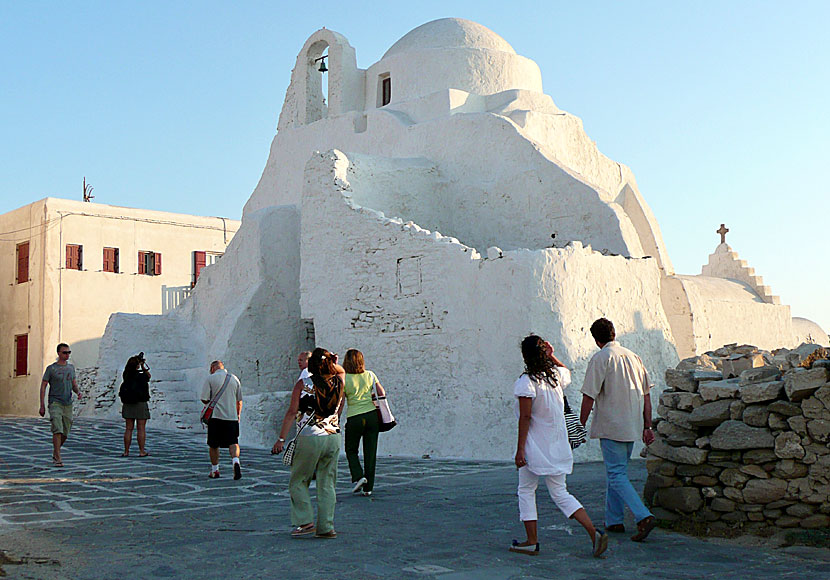 Church of Panagia Paraportiani.