While you're visiting the Kastro I can recommend a visit to the Archaeological Museum which is housed in a beautiful Venetian building from the 17th century. The museum has several interesting objects, including a large number of Cycladic marble figurines, only the National Archaeological Museum in Athens have a larger collection in number.
These figurines were common between 2,900-2,400 BC. The majority of the figurines are female with triangular heads, arms folded, legs straight and knees slightly bent. The few male figurines are usually musicians or warriors. One of the most famous male figurine is the Harp Player, found on the island of Keros outside Amorgos and is today on display in Athens. Copies of the figurines are available for purchase everywhere on Naxos.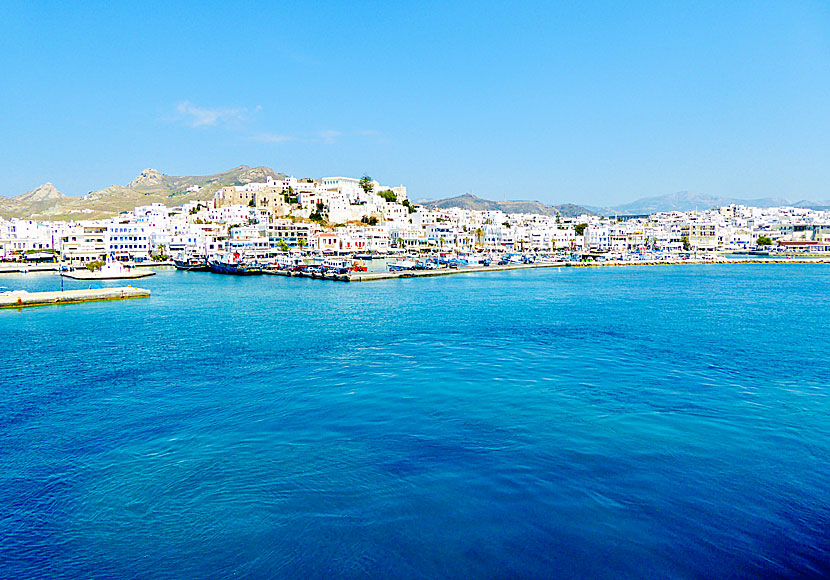 Naxos Town. The port is on the left and Kastro is in the middle of the picture.
The cosy port esplanade has its beginning just before the breakwater leading to the Portara and extends along the entire port basin. Along the port esplanade lies a varied collection of tavernas, bars, cafes and ouzeries. The quality of the tavernas varies greatly, some are very good, others are tourist traps. A minus is the barkers, many tavernas have refrigerated displays on the street where the menu is displayed, the barkers are asking you to look in the "shop window" and points with his arm toward his tables.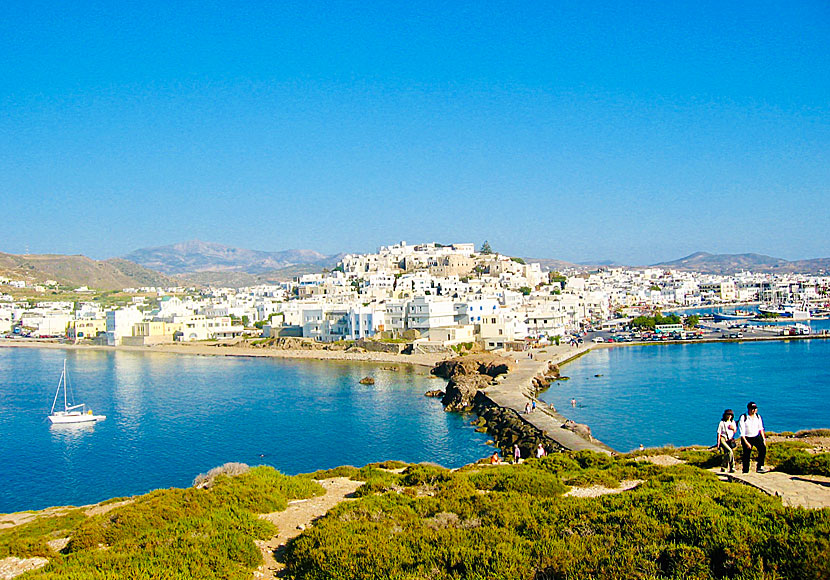 Naxos town seen from Portara. Grotta beach to the left.
Personally, I prefer one of the cosy ouzeries (serves small dishes as you usually drink ouzo to), especially Ouzeri Valetta located quite close to the bus station. Valetta serves tasty small dishes, ouzo and wine at good prices. Their grilled octopus is absolutely fantastic and the staff is friendly and they really gives of themselves. Valetta is mainly popular with Greeks. Other good tavernas can be found in the alleys in the Old Market behind the port esplanade. The best tavernas in the Old Market is Metaxi Mas and Apostolis.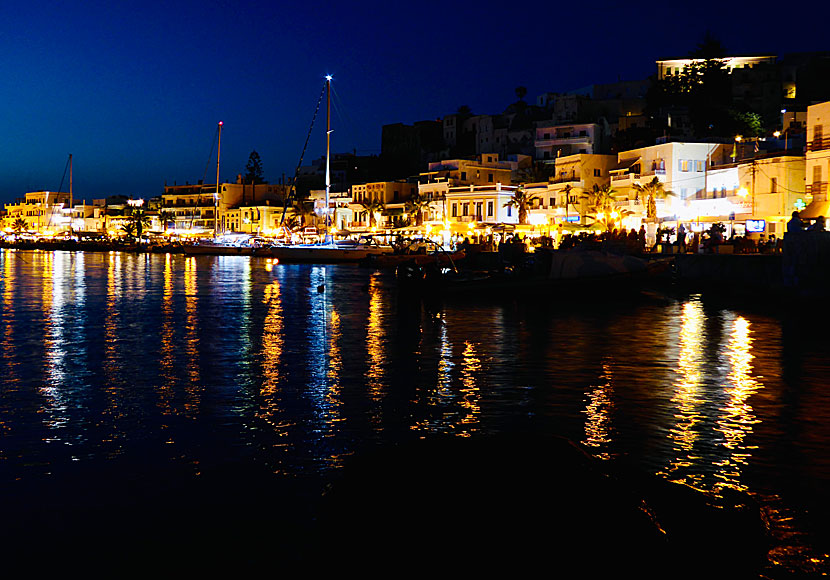 The waterfront promenade is lined with tavernas, ouzerias and cafes.