TRAVEL TO MARATHI
Package holidays are arranged by all major package holiday operators. No, I'm just kidding. To Marathi it is obviously not possible to go on a package holiday. How would it look like. :-)
There are no regular boat services to Marathi, instead you have to rely on the excursion boats from Leros, Lipsi or Patmos. I prefer to go from Lipsi, mostly because I like Lipsi so much.
If you want to stay overnight on Marathi, just tell the boat owner for how long you want to stay and then take the same excursion boat back again. Keep in mind that the boat will cancel the trip if the wind blows too much, there is a risk that you will remain on Marathi longer than you expected.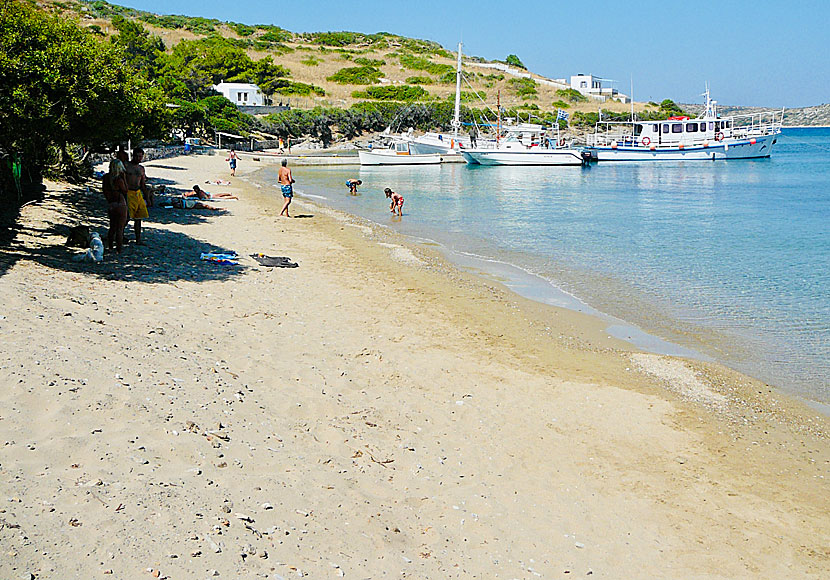 Marathi beach and excursion boats from Lipsi.
GETTING AROUND IN MARATHI
There can hardly be no talk of travelling around, possibly walk or swim around. Everything that exists on Marathi is within sight and therefore it only takes a couple of feet to get around.
VILLAGES IN MARATHI
Naturally, there are no villages in plural or in singular. The beach itself is the village, so to speak. There is one taverna at either end of the beach, and one taverna at the middle of the beach. There are no shops, all meals are eaten at one of the tavernas. Water and other drinks are available for purchase in the tavernas.
It do not exist any nightlife, of course not, the amusement is what you yourself make of it. The few who stay overnight usually spend the evenings at one of the tavernas, and maybe they revel in some local wine and nibble on some homemade goat cheese. Maybe they read a book, or philosophize about who they are, what they have done, and what to do in the future.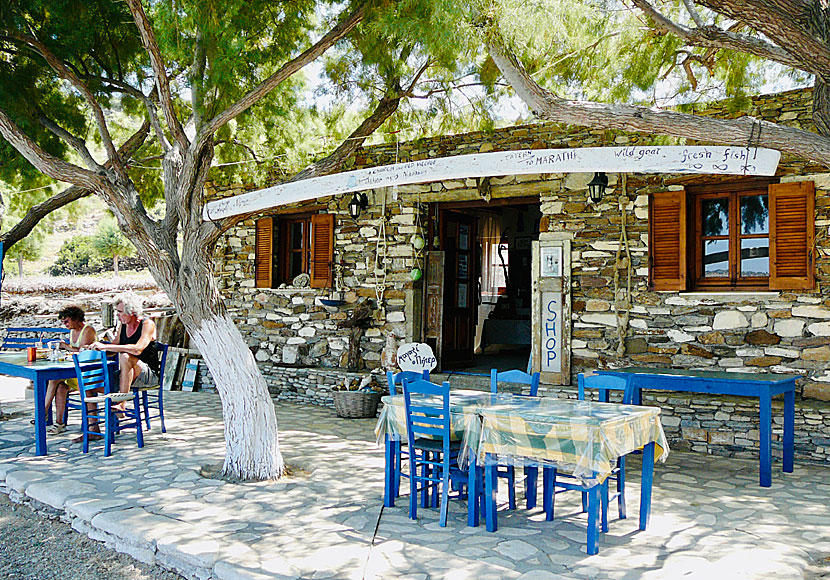 Taverna Marathi.
In my opinion, the best taverna is Taverna Marathi at the far left on the beach, seen from the sea. Michalis - who owns the taverna - is one of the three all-year-round residents. He is commonly known as the pirate, you'll understand why when you see him. Try to eat goat, it's fantastic! Next to the taverna is a souvenir shop that sells postcards and pictures from Marathi. You will have to wait until you get to civilization again to post your postcards.