Meganisi, or Meganissi, lies east of Lefkada in the Ionian Islands. The name means "the big island" in Greek, but any large island is out of the question, Meganisi is only 22 km2, compared to the neighbouring island of Lefkada is 333 km2. The island has about 1,040 inhabitants in three villages: Spartochori, Katomeri and Vathy. The highest mountain is called Megas Birnos and is 297 meters high.

Vathy in Meganisi.
Meganisi is, like all islands around Lefkada, an extremely green and beautiful island. There are not many tourists who travel to Meganisi for holiday. The reason is probably that it is a small island without spectacular beaches or sights. However, many people come here with excursion boats from Nidri on Lefkada. If you travel to Lefkada, I can highly recommend a day trip to Meganisi. It departs several boats each morning from the port of Nidri.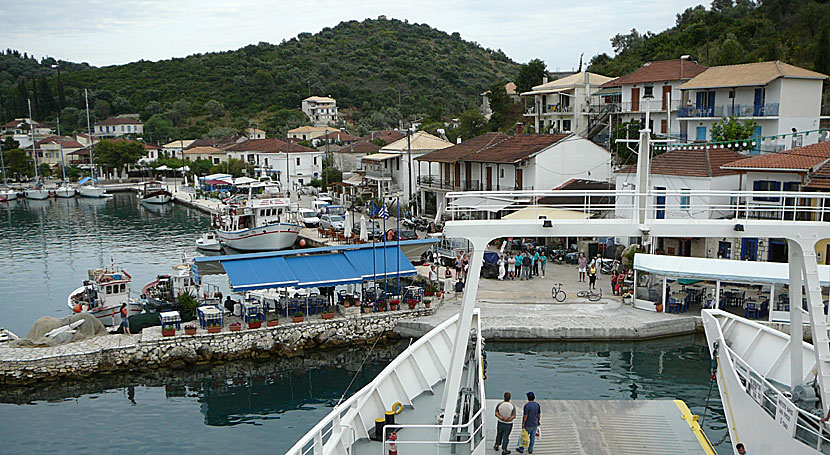 TRAVEL TO MEGANISI
The easiest way is to go by air to Preveza on the mainland, continue by taxi to Nidri in Lefkada, and then by boat to Meganisi. From Nidri in Lefkada you can choose to go with water taxi, excursion boat or car ferry to Meganisi. There are two ports on Meganisi: Spartochori (Porto Spilia) and Vathy. From Nidri the cross over to Spartochori takes about 25 minutes, and to Vathy 40 minutes, by car ferry.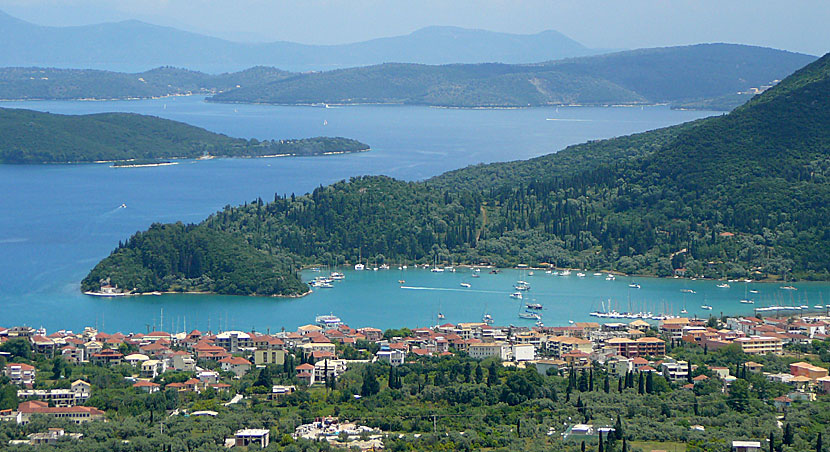 Somewhere out there in the archipelago is Meganisi. The large peninsula on the right in the picture is called Yeni, and is well worth a visit if you're in Lefkada.
Book ferry tickets online here »
GETTING AROUND IN MEGANISI
Local bus runs between Spartochori, Katomeri and Vathy about seven times daily. As far as I know, there is neither car nor moped rental services on Meganisi. But it is not far to Nidri on Lefkada, were there are many renters.