The village has an insanely beautiful setting in one corner of a large bay with lovely waters and lots of sailboats, on the opposite side lies the exciting Yeni peninsula, to the left off the peninsula are four five wooded islands, the whole lot forms a beautiful painting, a painting one never get tired of looking at. It's a real pleasure to sit down at a seafront taverna and gaze at the lovely scenery that resembles of Thailand.
But I'm not impressed by the beach, it is quite narrow and pebbly. But that is how it is on Lefkada, the really good beaches lies on the west coast. The beach starts at about where the promenade ends and continues to a point of land where you can rent various of water toys, the beach continues after the point. Even though the beach is not one of Lefkada's better beaches, it's okay to spend the days here, as many do.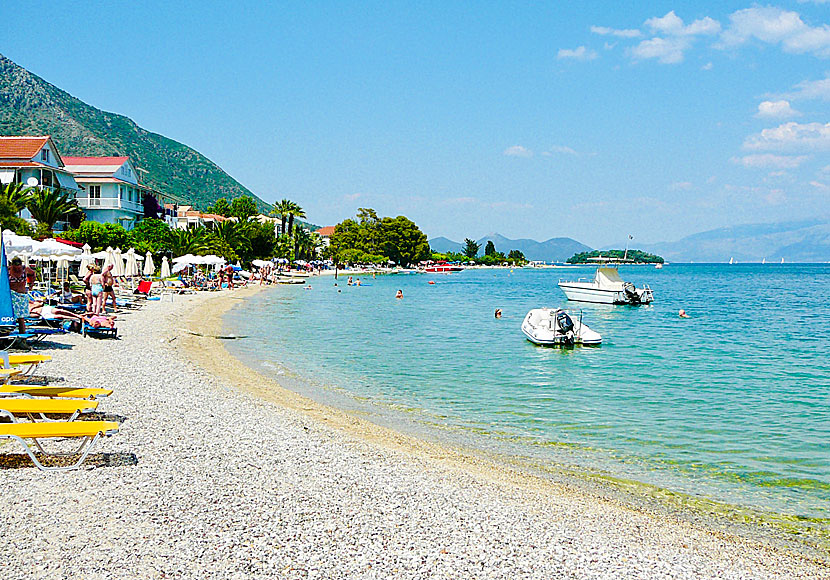 The village itself is not particularly beautiful, I think that no one would say so. A big minus is the busy road that leads straight through the village. Along the road lies car and scooter rental places, supermarkets, shops, souvenir shops, travel agencies, and of course a lot of tavernas and bars.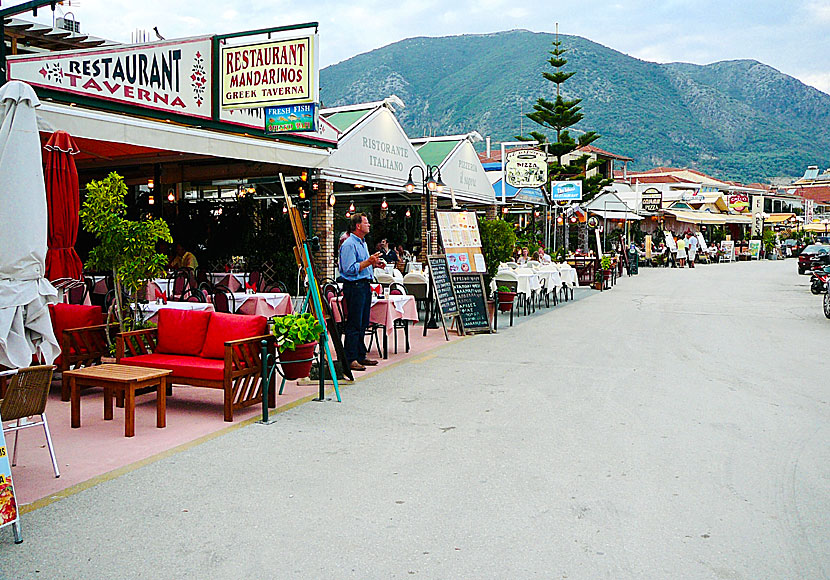 Tavernas at the harbour promenade.
The long waterfront lined with tavernas, bars and cafes is on the contrary very pleasant. In the evenings, here are loads of strolling, eating and drinking tourists and Greeks. The port is filled with sailboats and excursion boats. At about in the middle of the waterfront is the ferry quay where the ferries to for example Meganisi departs from.
ACCOMMODATION IN NIDRI
If I did not have my favourite accommodation at Hotel Adriatica in Nikiana, I would really like to stay in Nidri. Gladly at Hotel Nydri Beach which is located on the beach and offers beautiful views.