BY BUS
The bus network is well-developed and there are service from Lefkada Town to almost the entire island. The main bus station is near the big marina in Lefkada Town. There is best bus service to Ligia, Nikiana, Nidri, Vasiliki and Karia.
Bus time table is available here »
BY TAXI
There are a large number of taxis in Lefkada Town and in the major tourist resorts.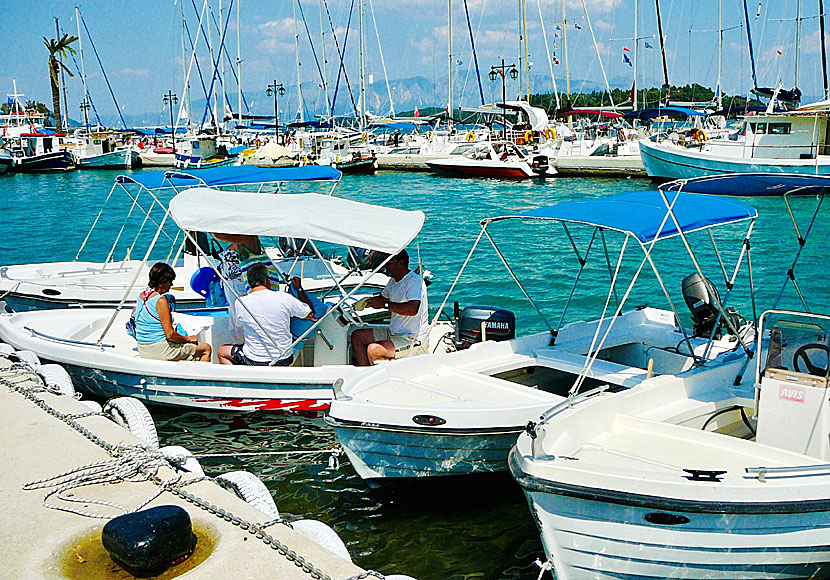 In Nidri you can hire small boats and go around the archipelago on your own.
RENT A BOAT
There are small plastic motorboats for rent in for example Nidri if you want to see some of the archipelago on your own.
BY EXCURSION BOAT
A large number of excursion boats starts out every morning from Nidri to for example the swimming paradise of Porto Katsiki, to Onassis' island of Skorpios and to the so-called submarine cave, or Blue Cave, on the neighbouring island of Meganisi. You can also go on day trips that include lunch and many stops for swimming.
One of the nicest excursion boats in Nidri is MS Christina. With this beautiful sailing boat (running on engine) you can for example go on a trip called Forgotten Islands. The excursion with MS Christina begins with a short stop at the Blue Cave on Meganisi, after that it is time for a swim close to an uninhabited island before the boat continues to the small island of Kastos (35 inhabitants) where it stops for about 45 minutes.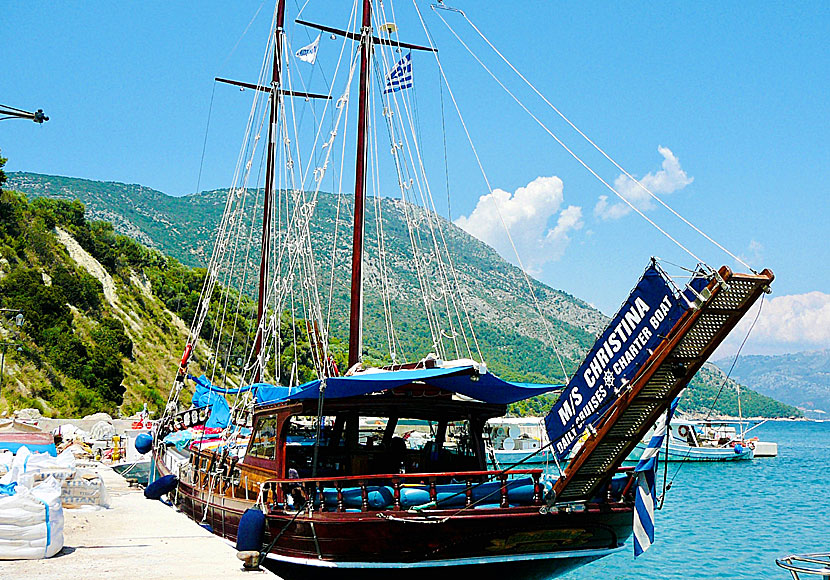 M/S Christina in the port of Kalamos.
After Kastos, the trip continues to Kalamos (200 inhabitants) where you can go for a swim before lunch (served on board the boat). After lunch, there is time to see a little of Kalamos. The last stop is off a small beach on Skorpios, it is the only part of Skorpios that is allowed to visit for outsiders. Here the boat stops for a short swim.
DAY TRIP BY FERRY
A day trip on your own to the picturesque island of Meganisi is highly recommended. Car ferries starts out from both Nidri and Vasiliki, the smartest is to go from Nidri, the passage takes only 25 minutes.
Meganisi is small, there are three small villages and several smaller beaches. You can go to Meganisi without your own vehicle, you have plenty of time to see both Spilia and Vathy in one day. But the easiest way is to bring a car or scooter on the ferry, then you can see the whole island before it's time to return to Lefkada.
You can also take a day trip to Kefalonia and Ithaka. Check the boat timetables closely so you do not get stranded on any of the islands.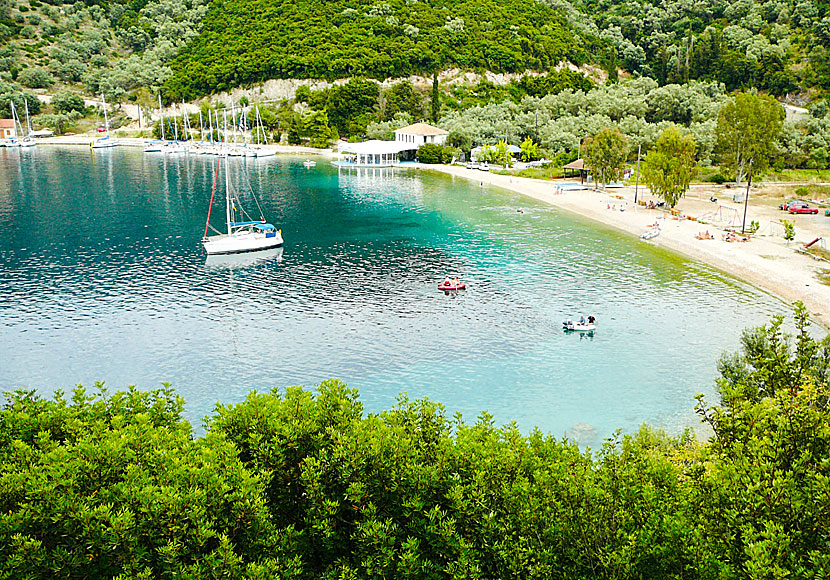 Take the ferry to Meganisi. You can see the whole island during a day.
HIKING
Lefkada is good hiking island, So if you like to hike you will like Lefkada.