Above Agios Ioannis beach, near Lefkada Town, stands Lefkada's most important monastery, Panagia Faneromeni. The monastery is well worth a visit, not least for the soothing atmosphere that is always found in Greek monasteries, but perhaps mainly for the fabulous views of the lagoon, Lefkada Town and the lovely surroundings of Agios Ioannis beach. The monastery is open to visitors. To enter the monastery area you must cover your arms and legs.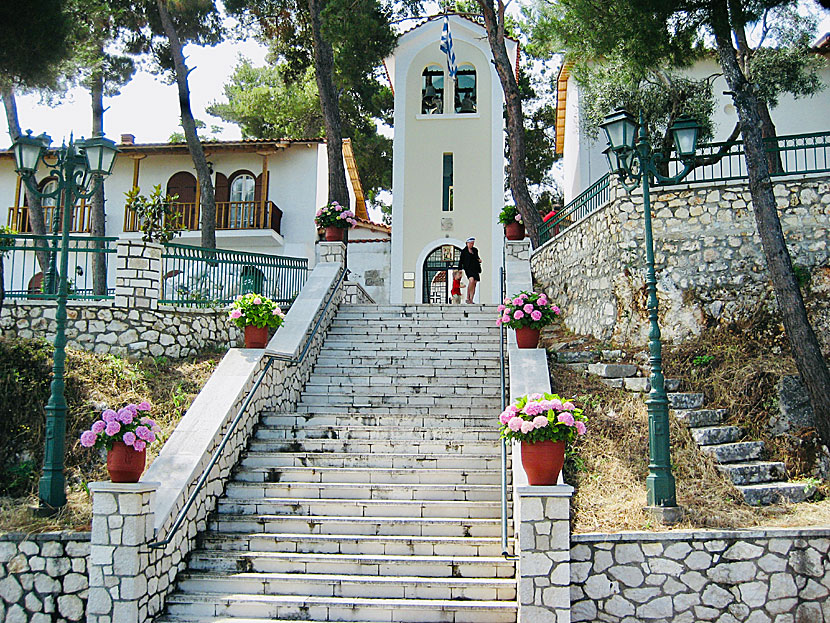 The monastery of Panagia Faneromeni, close to Lefkada Town.
South of Porto Katsiki, as far south as you can come, is a lighthouse strategically located in Cape Lefkatas. According to the legend the poet Sappho killed herself by jumping off the cliffs into the sea. The reason is said to be unhappy love. True or not, nobody knows, Sappho lived a long time ago (630-570 BC).
It is believed that she wrote about 500 poems, only a few have survived. Sappho is not only famous for her poems, she has also become history because of her homosexuality, she came from the island of Lesvos, and that is why female homosexuality is called lesbians.