There is no package-tourism on Fourni, at least not that I know about, but you can always check with a travel agency in your country. I think it is a pity, many do not dare to travel independently, and they will miss gems like Fourni. If you have the courage to travel independently, it is as easy as pie to travel to Fourni.
BY INTERNATIONAL FLIGHTS
The easiest way is to go by air to Samos and continue by ferry. Another option is to fly to Athens, fly on with domestic flight to Ikaria or Samos, and travel on by ferry to Fourni. You can also go by ferry from Athens' port at Piraeus, but be prepared for a long and weary voyage. A third option is to go by air to Kos and take the ferry from there to Samos, and travel on to Fourni.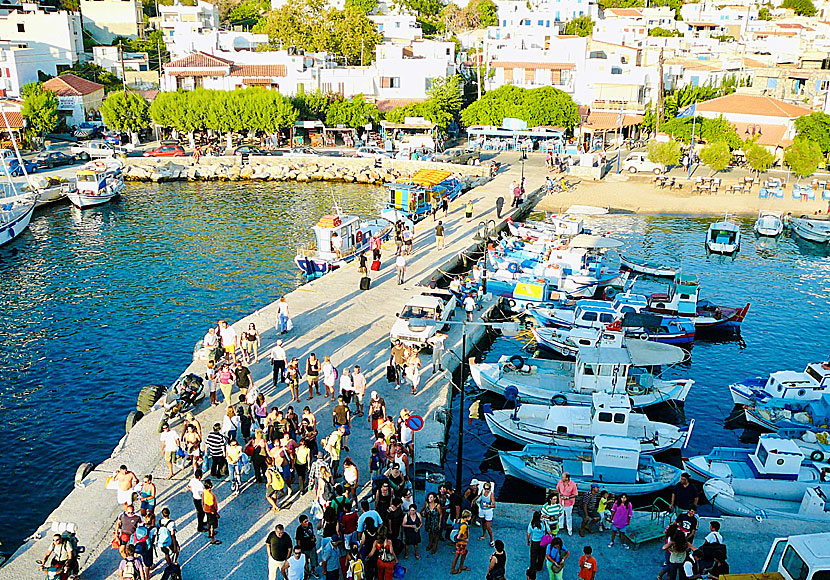 The small port in Fourni.
BY DOMESTIC FLIGHTS
The nearest domestic airports are on Ikaria and Samos.
BY FERRY
Fourni has good boat connections with Samos, and with the neighbouring island of Ikaria. There are also ferry connections with Athens' port at Piraeus, as well as with Syros in the Cyclades. The ferries from Samos goes both from Samos town (Vathy) and from Karlovassi, which is Samos's second largest port. Samos town is much nicer than Karlovassi, so if you can go from there it is better.