Where Livadia beach ends, Armenistis begins. Here are a few pensions with great views, a bakery and a bus stop. The bakery is also a café. At the bakery's outdoor terrace, both villagers and tourists enjoy themselves with coffee and views. Shortly after the bakery is a bridge across a ravine. In the spring, if it has rained a lot, there is water flowing in the ravine. Then it is not unusual to see turtles and water snakes along the ravine.
Where the bridge ends the road forks. The road straight ahead goes through the village and then continues to Nas, which is the next village. If you go to the right at the intersection you get to "harbour street", on the way down towards the water you pass travel agencies, a dried up boat where you can buy books, the tavernas Paskalia and Delfini, as well as some souvenir shops. Along the seafront are several tavernas and a Supermarket.
In the upper part of Armenistis there is a supermarket, bicycle and scooter rental places, a gyros place, some tavernas and quite a few pensions. However, there is no bank, but there is an ATM.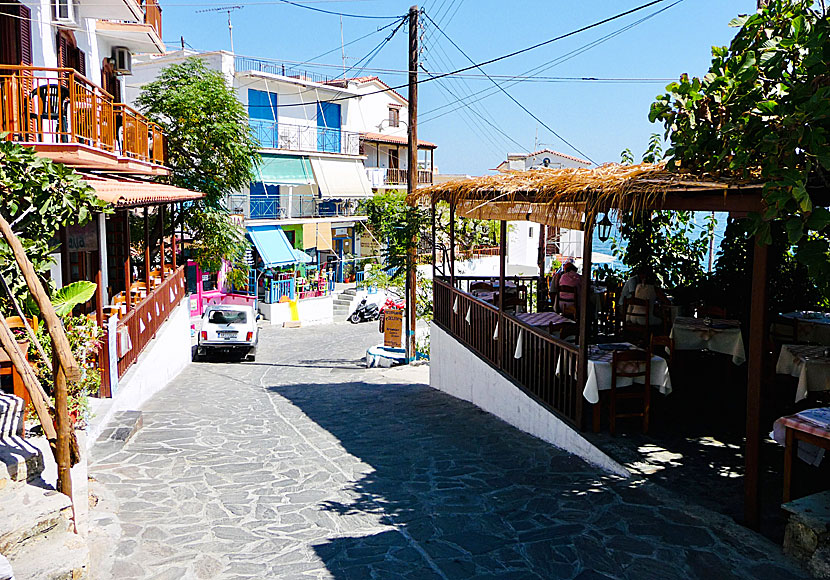 The Taverna Paskalia is located on both sides of the road.
To eat at any of the tavernas at the seafront are naturally attractive, and they are all good, but Paskalia and Delfini are probably the two best. Taverna Paskalia have tables on both sides of the road. They serves excellent food at low prices, not only that, the food is served by, what could be, the island world's nicest and happiest taverna owner, he is called Haris and is a phenomenon as a cheerful soul, one will be happy just to see him.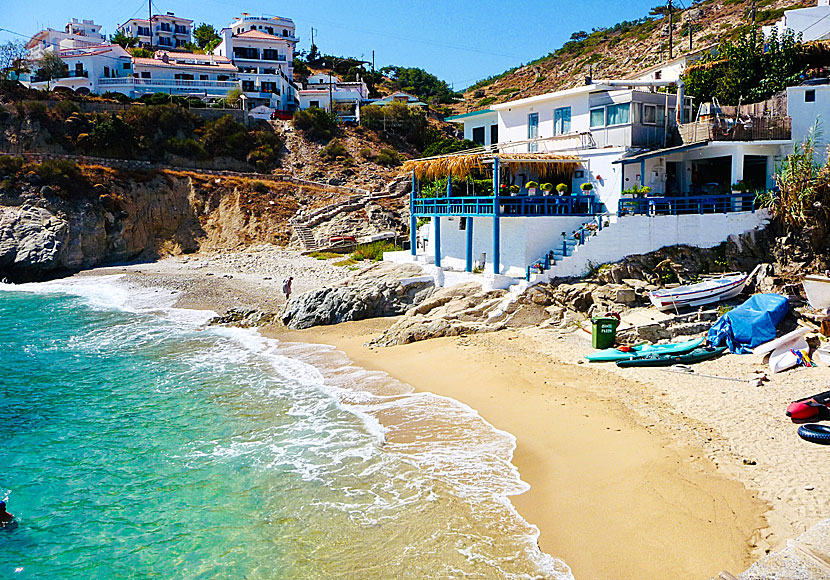 The small beach in Armenistis.
Taverna Delfini lies below Paskalia. The treatment is different here, you might say a little distant, but for that reason it is not inhospitable, in a way it is just like Ikaria. The food is amazing, try their meat, it comes from the owners' own farm and tastes good. The view is not bad either. Come early, it is almost always full up. By the way, below the taverna is a small beach that is okay. (Delfini were closed parts of summer 2018. Hope they will open again.)