When you look out over Lefkos the first time, you might raise your eyebrows. It is an incredibly beautiful view you are met by. The fabulous beach stretches along the entire bay, above lies inviting tavernas and pensions. The beach is child friendly and ideal for small children.
Where the beach ends lies a small fishing port, often the fishermen sits here and mend their yellow nets. We always eat lunch at Restaurant Blue Sea farthest away, just before the fishing port. You can sit here any amount of time, and enjoy good food and beautiful views.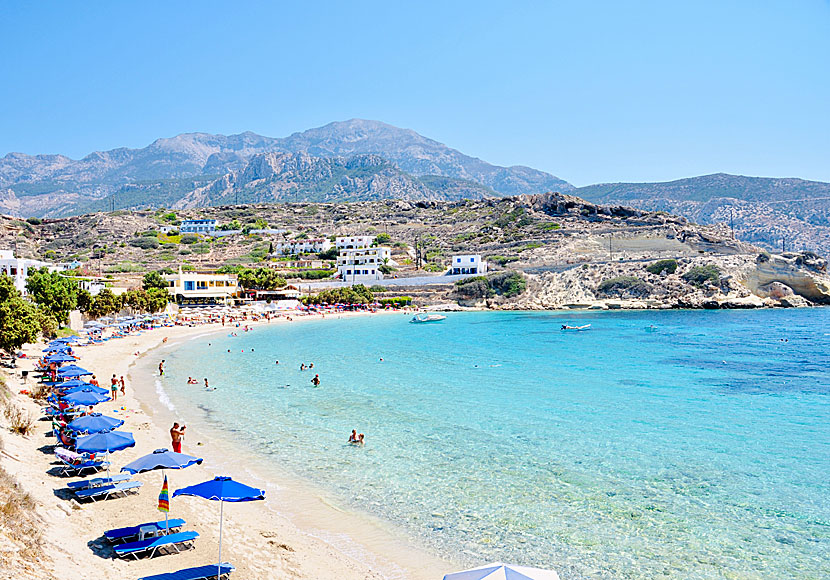 One of the beaches in Lefkos.
Lefkos was a small picturesque fishing village with a few houses before the tourists discovered Karpathos. Today, the fishermen belongs to a minority group, tourism has taken over almost completely. But you must say that Lefkos of today still is quite picturesque thanks to the village's smallness. If you choose to stay in Lefkos you will get a quiet and restful holiday. The beaches are nice and the tavernas are quite enough so you will not weary of them. The only thing missing is a supermarket with large range. ATM are available since June 2017.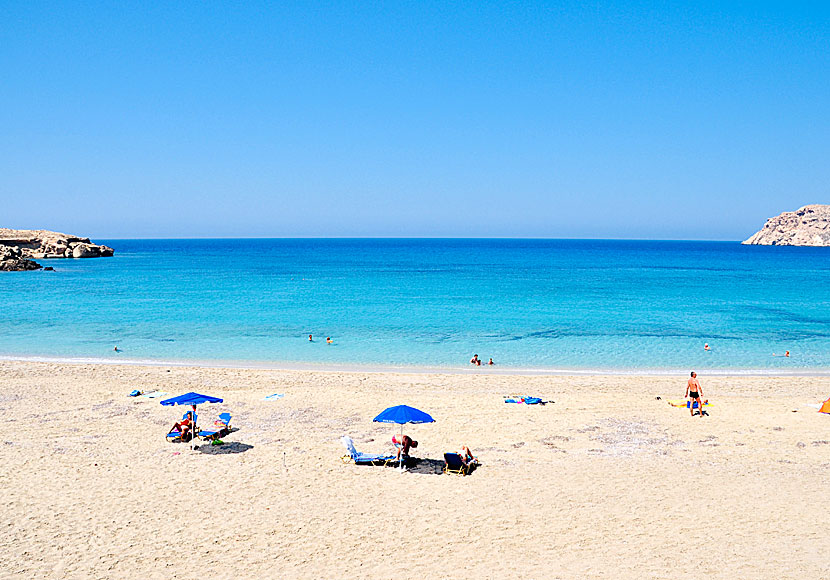 Frangolimnionas beach in Lefkos.
If you round the point of land where the first beach stop you will reach two more beaches, one small beach, and one larger named Frangolimnionas. The beaches are separated by a tombolo with bathing-places with rocks. Do you like to snorkel, it is around the tombolo you should do it. Also above these beaches are tavernas and hotels.
You can travel on a package-holiday to Lefkos from several countries, and therefore are some of the rooms already booked up. But there are plenty of accommodation options even for those travelling independently. Hotels and pensions are both in Lefkos and at Potali beach.