Kefalonia's largest town is Argostoli (9,750 inhabitants) and it is the island's administrative, economic and cultural centre. The town is long and narrow and is set on the western side of the Gulf of Argostoli, which is Greece's fourth-largest natural harbour.
A 900 meter long stone bridge leads from Argostoli to the other side of the bay. The bridge - known as Drapano Bridge - is one of the few construction works in Argostoli that survived the earthquake. (The whole town was rebuilt after 1953.)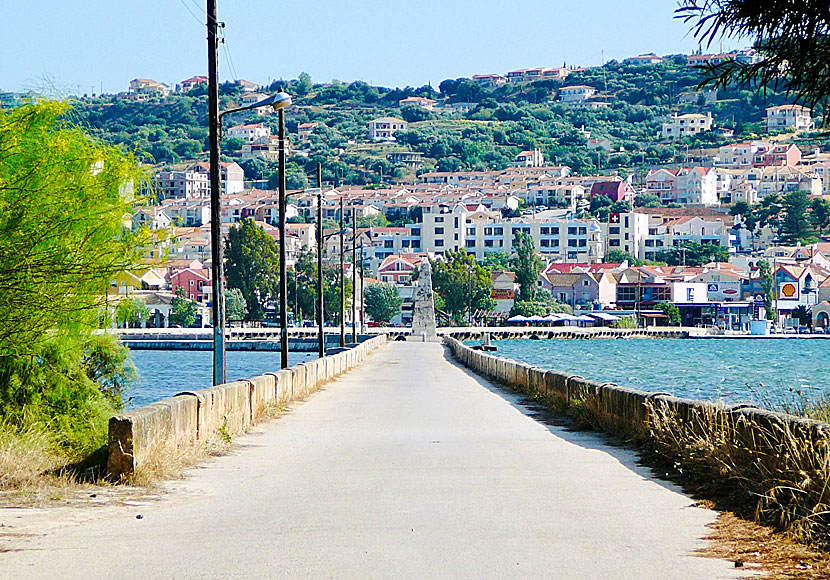 Drapanos bridge in Argostoli.
An obelisk in memory of the man (De Bosset) who initiated the construction of the bridge stands in the middle of the bridge. Motor vehicles are not allowed on the bridge, but bicycles are allowed. Unfortunately the bridge has fallen in disrepair in recent years, but repairs have been made.
The Drapano Bridge is good to have as a landmark when to orient oneself in the town. The most interesting neighbourhoods are north of the bridge, south of the bridge lies the bus station and the "swamp" of Koutavis Lagoon.
Continuing south one will eventually arrive in Skala. If we instead go north along the busy street we will soon get to an area with tavernas, fast food places, shops and a fish and vegetable market.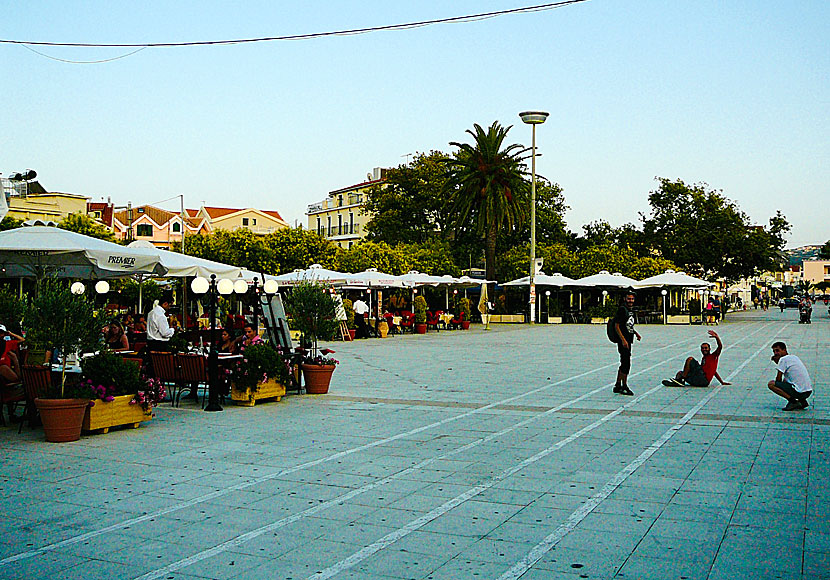 Platea Vallianou in Argostoli.
Here is a lot of hustle and bustle, pedestrians crowd together with buses, scooters, trucks and cars. Everyone seems to pass here. The tavernas lies strategically at the waterfront most offer a similar menu and are fronted by a more or less pushy barker. But the location is so good that one are more than happy to sit down.