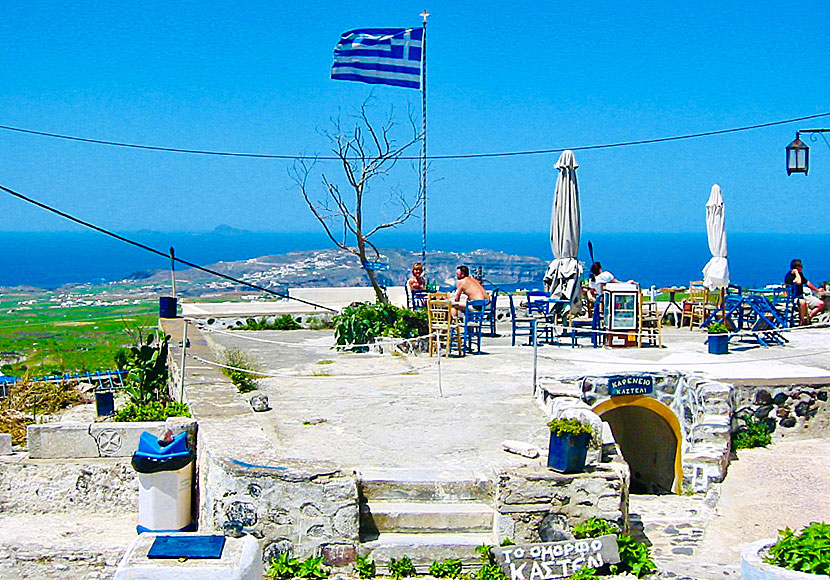 Kastro Café in Pyrgos.
One of Santorini's best restaurants lies in Pyrgos. It's called Selene Restaurant and was until 2010 located in Fira when it moved to Pyrgos. The restaurant has over the years won several gastronomic prizes. If you are interested in cookery, Selene organizes classes in cookery.
You can continue the road from Pyrgos up to Profitis Elias mountain, which is Santorini's highest mountain (567 metres). The monastery with the same name as the mountain is most beautiful from a distance as it sadly stands in a military area. The trip up is vertiginous and the view over Santorini is ridiculously amazing. The entire island is at your feet and there is a breathtaking feeling to look out over Santorini and parts of the archipelago. Note the cultivations on the way up.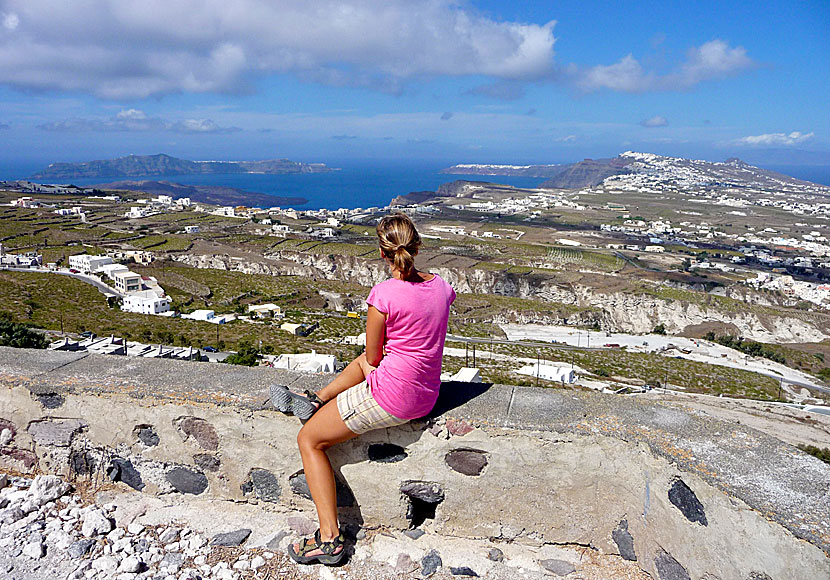 View from Kastro in Pyrgos.
If you are lucky with the weather, you can see the islands of Amorgos, Anafi, Astypalea, Folegandros, Ios, Iraklia, Sikinos, Naxos and Paros from here.
ACCOMMODATION IN PYRGOS
Just as in the village of Megalochori, the standard of the hotels in Pyrgos are generally higher than in other villages, you can say that the standard is quite luxurious, and prices are accordingly. One exception is Zorbas Hotel that some readers of Kalimera (the Swedish version of Kalispera) have recommended. The location is strategic since it is located almost exactly in between the airport and the port. Another good hotel is Donna's House Santorini.