Small islands generally tend to be difficult to travel to. But that is not the case with Tilos, rather the opposite, and it is thanks to the proximity of Rhodes which has a international airport and busy ports.
BY CHARTER FLIGHTS
It is possible to go on a package holiday from some countries, check with a tour operator in your country. Most likely the air plane will land in Rhodes, from there are a bus take you to Rhodes town and then the journey continues by ferry to Tilos.
Dodecanese Pride in the port of Livadia in Tilos.
BY INTERNATIONAL FLIGHTS
The easiest way is of course to go by air to Rhodes, take a taxi to Rhodes town and continue with boat to Tilos. If you choose to go by bus to Rhodes town you get off at the last stop which is near Mandraki port.
BY DOMESIC FLIGHTS
The nearest domestic airport is in Rhodes.
BY CATAMARAN AND FERRY
In 2000 the islanders of Tilos joined interests and bought a catamaran to facilitate communications to and from the island. Unfortunately, it was often a problem with the Sea Star, which meant that the boat stayed in the port of Livadia. Unfortunately, for some years, Sea Star has not been traveling to Tilos.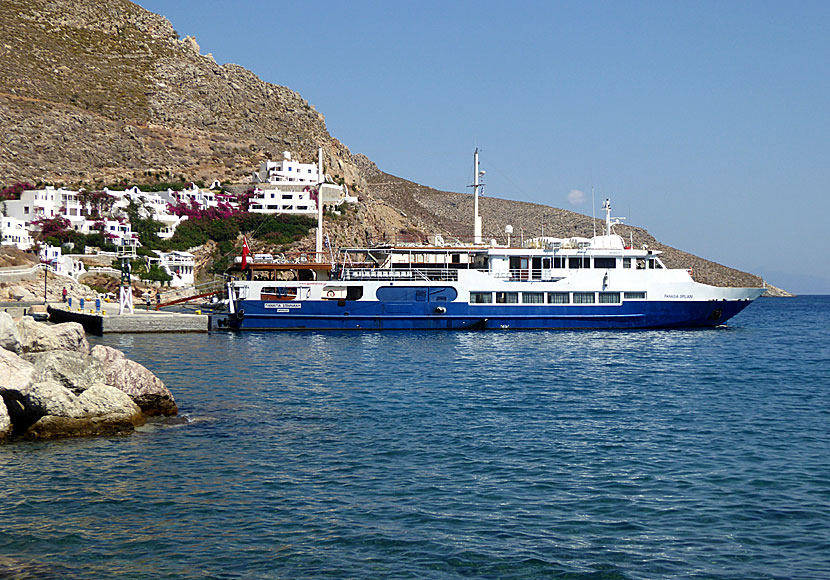 Panagia Spiliana in the port of Livadia. The boat goes to and from Kamiros Skala in Rhodes.