GETTING AROUND IN KEA
The local bus does not run on a hectic schedule. A taxi is a better and quite affordable alternative. The supply of car and motorbike rental is very limited, and available only in Korissia. We use to take a taxi.
VILLAGES IN KEA
The two main villages are Chora and Korissia. There are some smaller communities in the flourishing agricultural landscape in the middle of the island.
The small harbour town Korissia partly resemble Katapola on Amorgos. Korissia is, just as Katapola, dominated by tavernas (my favourite is called Lagodera), cafés and ouzeria, travel agencies and shops. There are other similarities as well: car and moped rental outlets, one cash machine, a few alleys, a beach by the harbour, a local ferry that arrives everyday, a local bus that runs on an irregular schedule and sail boats looking for a place to dock for the night. In other words: it is very pleasant little harbour village.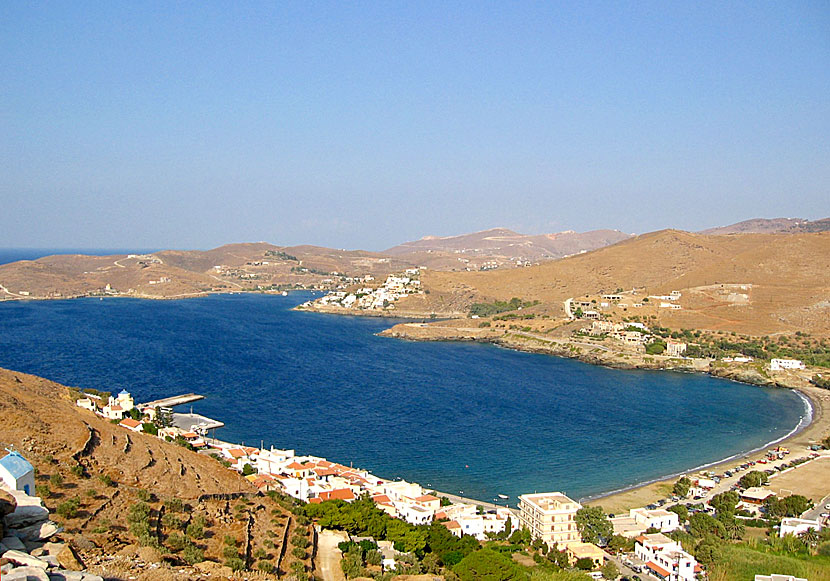 View of Korissia on Kea. You see the beach to the right, and Vourkari in the center of the picture.
Chora (also called Ioulis) is a charming village with nice squares, several tavernas, small shops, beautiful houses and endless alleys and rock vaults. Just like in Korissia, the architectural style is not like like the typical Cycladic. Chora is one of the Cyclades most beautiful villages.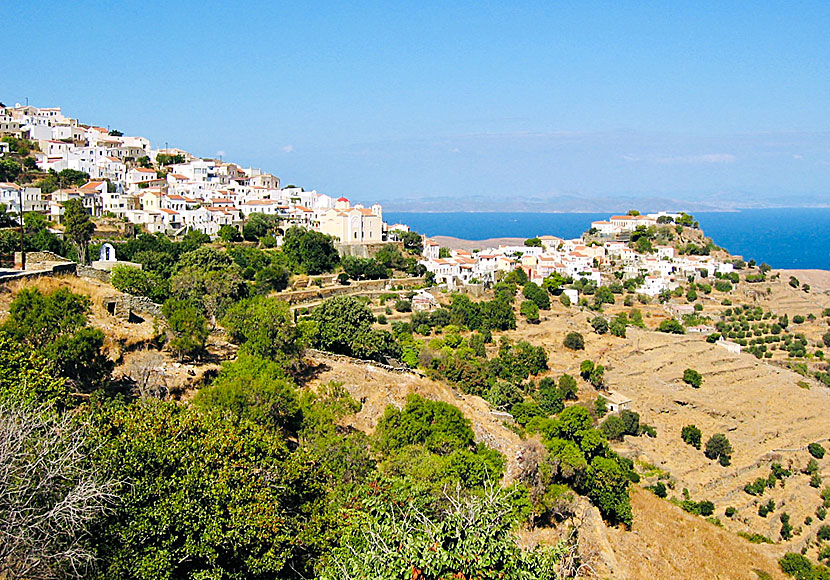 View of Chora. Also see the photo at the top of the page.
The heart of Chora is the square with the grand city hall and some of the best tavernas in the village. The taverna right in front of the city hall have tables set around the entire square. The view over the valley is soothing, the food is excellent and the waiters are nice, curious and concerned for the wellbeing of their guests. Rolandos ouzeri just across the street is warmly recommended.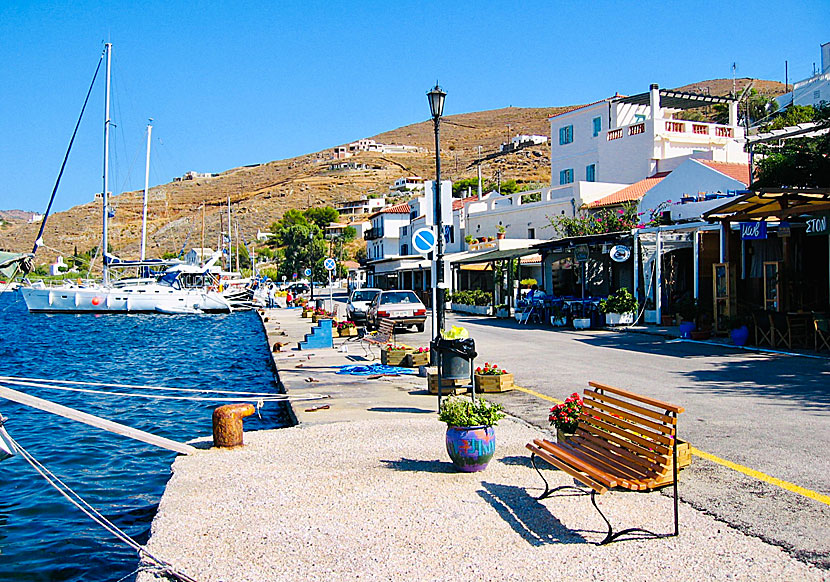 At a comfortable walking distance (2 kilometres or 1,24 miles) from Korissia lies the little fishing hamlet Vourkari. The harbour walk is narrow and short, but none the less it as has much to offer: a number of tavernas, a couple o shops, some pensions and along the quay-edge the fishing-boats and sailboats bob up and down.