Phoenix (or Finix) has a couple of pensions, a taverna and a small pebble beach. The taverna is called Old Phoenix and is highly recommended. Above the taverna is a pension of the same name. Phoenix is extremely peaceful and if you are looking for the ultimate tranquillity you can hardly find a better place.
You can continue to the tiny seaside settlement of Lykos from Phoenix. The path is easy to follow and is maintained by thousands of goats. After about 30 minutes you arrive in Lykos (or Likkos). Also here there are rooms for rent and a taverna. Unfortunately, the beach is anything but good. But apart from the beach, Lykos is also perfect for those looking for peace and quiet.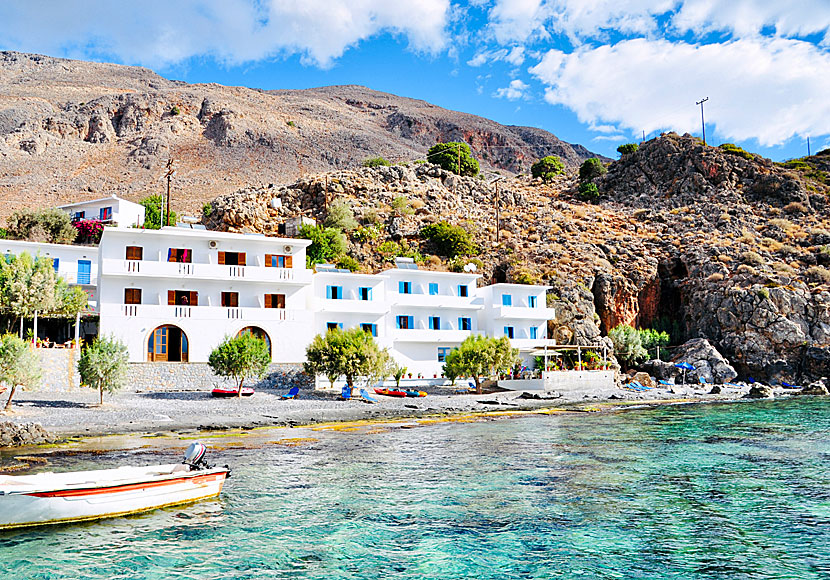 High above Lykos and Phoenix lies the small sleepy hamlet of Livaniana (see picture at top right). The place itself it nothing to write home about, but the only taverna offers a stunning view of the sea, good food and a meditative atmosphere.
A path runs along the coast from Lykos to Marmara beach, near the exit of the Aradena Gorge. We tried to walk to Marmara from Lykos, but we had to give up because it was just too steep. That is how it is when you are afraid of heights. But if you don't have vertigo, it is surely a piece of cake to walk to Marmara beach, where there actually is a taverna.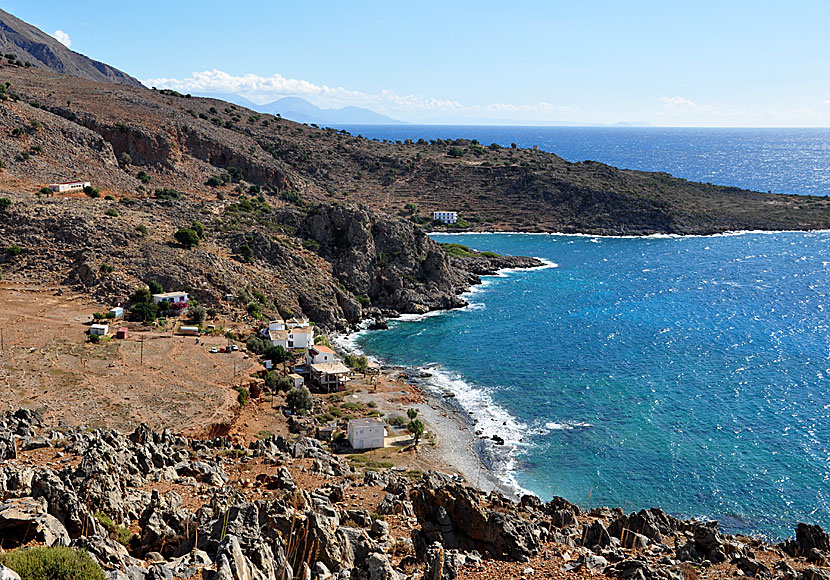 Lykos and Phoenix.
In the picture you see Lykos in the foreground and one of the buildings in Phoenix in the background. Loutro is located behind the hill, from where it is possible to walk to Phoenix and Lykos. You also see some cars in the picture, and sure, it is possible to drive here, but it is similar to a near-death experience.