All roads leads to Ios, that is what was said in the eighties and nineties. But the time has past. But it is still as easy as pie to travel here. Airport do not exist, so you have to go by ferry. There have been plans to build an airport in the mountains (above the port), but the plans will probably never be realized. We thought, but now it may still be an airport. Read more here.
BY CHARTER FLIGHTS
It is possible to go on a package holiday from some countries, check with a travel agency in your country. Most tour operators offers accommodation in Gialos (port beach), Chora and Mylopotas beach. The aeroplane come down in Santorini, the ferry to Ios takes 1-2 hours. It may be that there are no representatives from the tour operator on Ios, so it's almost like travelling independently.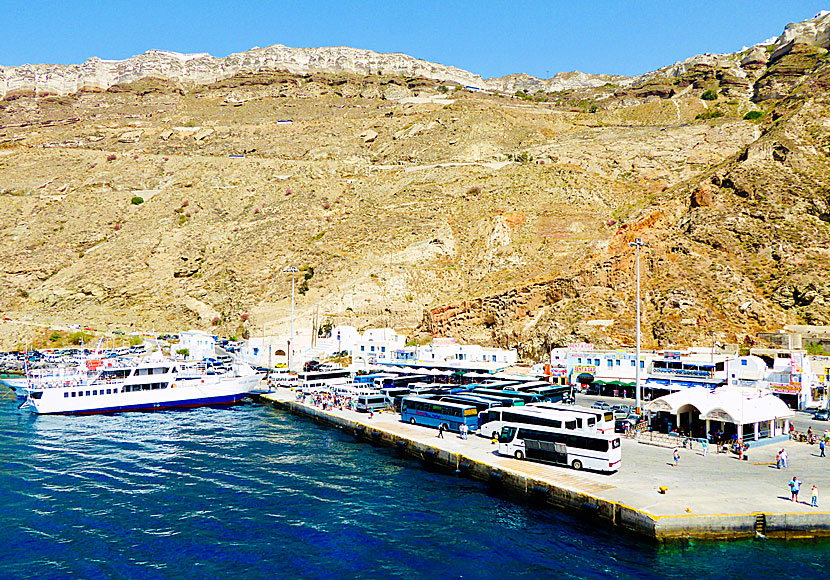 BY INTERNATIONAL FLIGHTS
The easiest way is to go by air to Santorini, seats on charter flights to Santorini can be sold individually through a charter company. If your are lucky, there is a ferry to Ios the same day, otherwise you have to stay overnight in Santorini. Take a taxi from Santorini's airport to the port. Taxis are found outside the arrival terminal.
The next best option is to fly to Athens and further by boat from Piraeus.
The port Ormos in Ios. Chora in the background.