Panteli is so ideal that one do not need to go anywhere else. At least we do not need to. The days in Panteli usually have the same routine for us. First we enjoy a long and peaceful breakfast. Then we go for a swim. It is so close so we do not need to bring change of clothes. Afterwards, we usually sit on the balcony and read a book. When it's time for lunch, we jog along down to the beach and sit down at one of the tavernas. Which one does not really matter because everyone is good. After the siesta, we may go for another swim, or read some more books.
In the evening we go to the marina and look at the fishing boats. Then we follow the quayside back to the beach, where we sit down and take an ouzo before dinner. If you think it sounds nice, you will also love Panteli.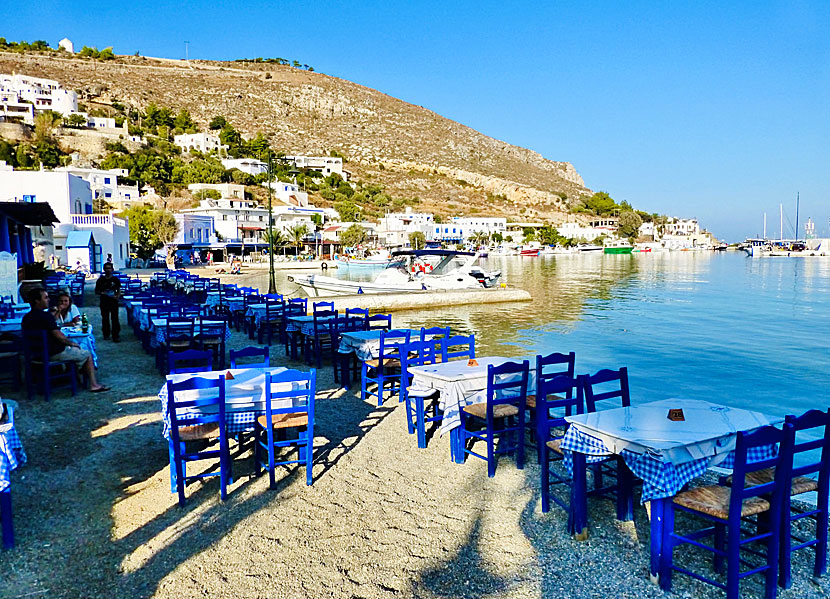 One of many good restaurants in Panteli.
Evenings in Panteli is magical. The tavernas set out tables and chairs on the beach, one can not get closer to the sea without sitting in the water. When darkness falls, the beach is illuminated by light from the tavernas. If one look up towards Platanos one see the impressive castle and the six windmills bathe in light. It is so beautiful!
We have eaten at all the tavernas in Panteli and we have eaten good food every time. To choose a favourite is difficult. But if I have to mention some, I choose Psarapoula (Apostolis) and Zorbas located next to each other about in the middle of the beach. Do try some of the other tavernas too. You will not be disappointed.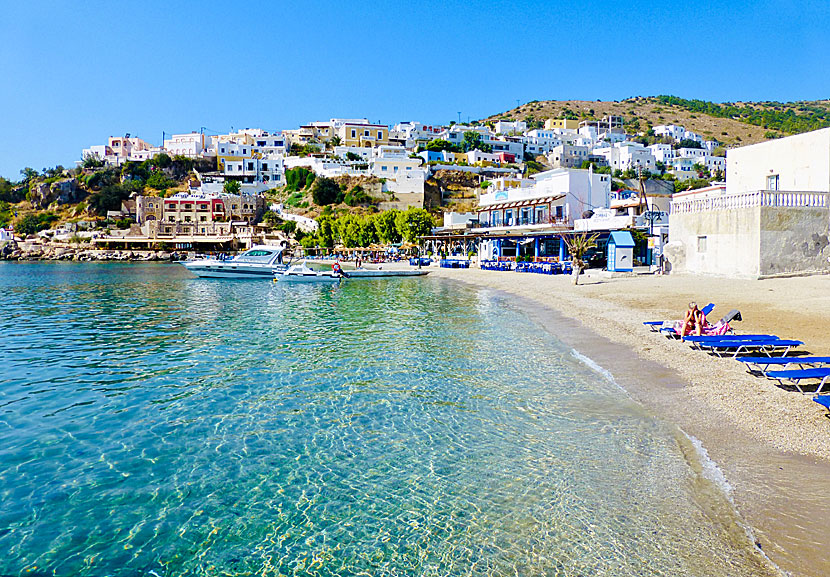 Lovely Panteli in Leros.
ACCOMMODATION IN PANTELI
We have stayed overnight in Panteli for three times and will probably stay there the next time we travel to Leros. Alinda is also nice, but Panteli is better. At least that is what I think. Last time we were here we stayed at Panteli Beach Hotel, and it is one of the best accommodation we have had in recent years, and I can heartily recommend it. Asterias are also very good.