From a distance Panagia Hozoviotissa appears as a giant sugar cube that has somehow riveted itself on the cliff side. I have visited the monastery several times, and every time I am puzzled about the architects and the construction workers of that time, every time I walk away with the mind filled with question marks. How did they do?
Inside the monastery are a number of small cells where the monks lived, only a few monks live here nowadays. Not only that the monastery is illogically located, it is also very narrow, in some places no more than four meters between the outside walls. A tour, as you do on your own, goes pretty fast and above all you will be impressed by the construction, the view of the sea, the icon of course, and that the monks can live in a place that is so hot.
When you reach the top floor your face and back will stream with sweat. Then, when you need it the most, the monks usually offer you a glass of water and a glass of monastery liqueur. However I leave out the floury sweets they also offers, it sits like a cork in the throat.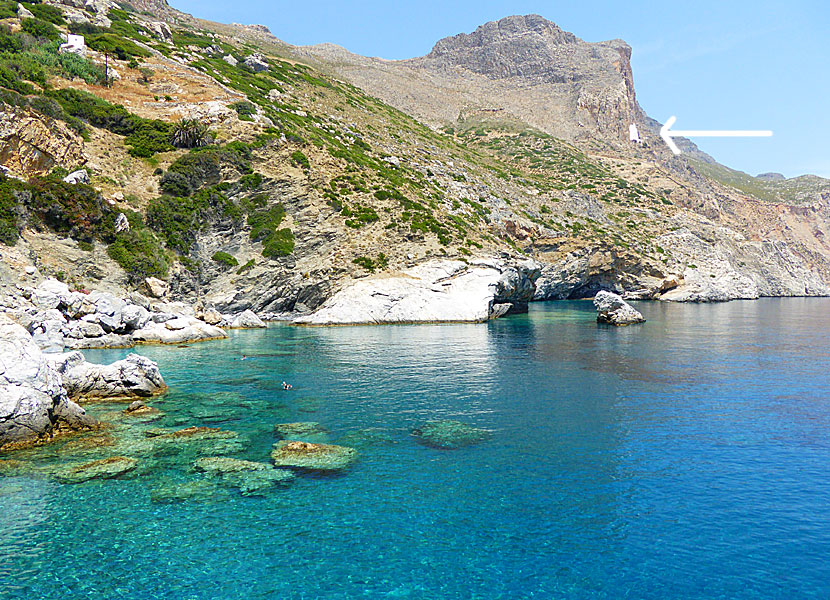 Panagia Hozoviotissa seen from Agia Anna.
The monastery is located right beneath Chora on the way to Agia Anna. The easiest way to get there is by private vehicle, then you avoid the crowding on the bus and you can be in charge of the time. The buses to Chora (from Katapola and Aegiali) are usually coordinated with the buses to the monastery.
Stone steps leads up to the monastery from the turning area, it takes about 15-20 sweaty minutes to walk up. Visit the monastery in the morning if you can, the monastery lies in the shade in the evening and is therefore not as spectacular.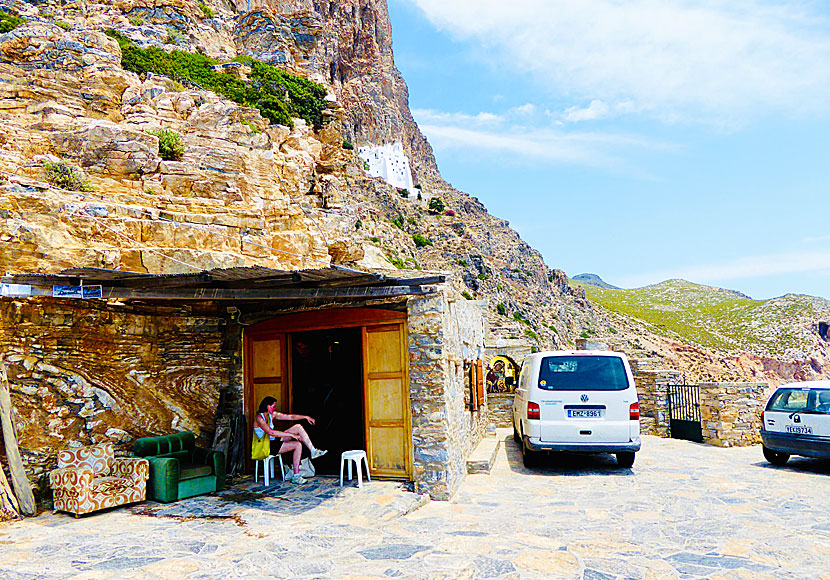 Panagia Hozoviotissa seen from the parking lot.
As in all Greek monasteries you must dress properly: arms and legs must be covered for both women and men. Women should wear a sarong, long skirt or dress. Earlier, there were clothes to borrow at the entrance, but it is not possible anymore, so bring your own clothes. Open every day from 8:00 to 13:00 and 17:00 to 19:00.