The buses arrive at the gorge entrance early in the morning and then it can be cold. It was only eight degrees when we were here last. You must also bring something to eat. There is nothing to buy until you arrive at Agia Roumeli. Last, but not least, you need a pair of really good shoes. It doesn't have to be hiking boots, we walked with regular running shoes, and that was no problem. It is prohibited to smoke, except in special areas.
Is it worth the effort to walk through the Samaria Gorge? Yes, I absolutely think it is. It may not feel that way when you get back to the hotel, because then you are quite exhausted, but the hike itself is a first-rate experience, and when you have recovered from the hike you feel extremely proud.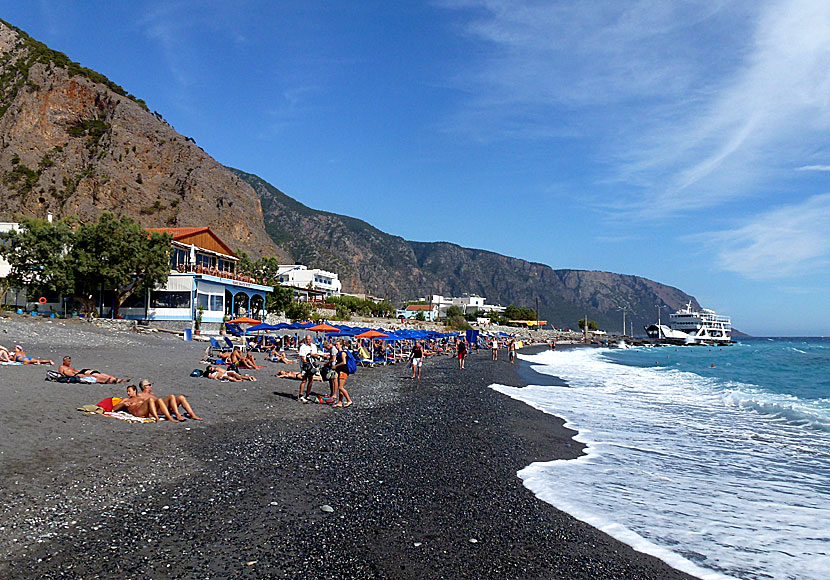 The reward after the hike is a dip in the sea at Agia Roumeli, and a cold beer at one of the tavernas.
If you do not want to go back to wherever you started your day, you can stay overnight in Agia Roumeli. It's a nice little village with tavernas and hotels. The village is not accessibly by road, the only way to get there is by boat, or on foot.
Read about Agia Roumeli here »
As I wrote further up we drove our own vehicle to the gorge. We had only intended to walk a short distance, just to see the gorge, disappointed as we were because the bus did not come to pick us up. But we walk almost the whole hiking trail (not to Agia Roumeli) and then we walked back up again. I do not recommend it, and we will not do it again. If we are able to walk down and up, I think that almost everyone can walk down. Don't you think. :-)