Pounta Square is also many people's first meeting with Chora since the bus stops nearby (behind the Post Office). Above the square are several pensions. To get into the village's centre, follow the road that leads to the left. A few meters ahead is Dounavi Square, one of the village's many cosy squares. Here is Kastro Café, the fine church of Stavros (celebrated on 14 September), the travel agency Maraki, an ATM and the popular Taverna Nikos.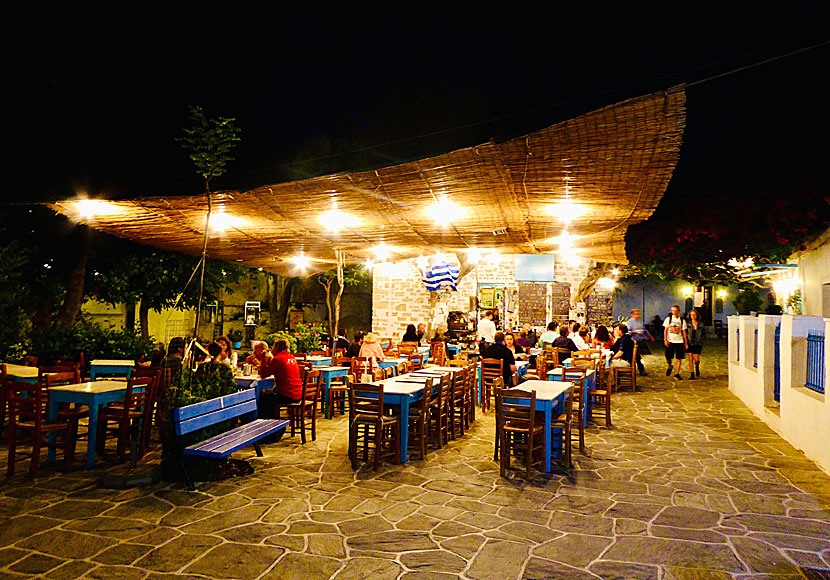 Taverna Nikos seams to come from another planet, and I can imagine that some close their eyes when they walk by. I do not know if I've seen a place like this in Greece, and certainly not on an island of Folegandros' size. Nikos Taverna is a little more sophisticated than the usual Greek taverna.
Many people like Nikos Taverna and may spend the whole day there: to read Nikos guides, to play some of the many games or just to listen to the beautiful music and to read a book. There is also food to eat, of course, the menu is probably the largest I've seen, and the kitchen is one of the smallest I've seen. Try the matsata, homemade pasta served with cockerel or rabbit in a red sauce. Matsata is something of Folegandros' specialty and are also served in other tavernas. If it is windy one evening and you feel cold, you can warm up with a rakomelo - flaming raki with honey - who Nikos claims to have invented, but it is offered on many other islands.
All four squares in Chora are pleasant. They are all close to each other, you just walk a few steps and you enter a new square, where there are more tavernas, cafes, ouzeries and small bars. And churches, of course, there are no less than 13 in Chora. Plus they ones inside Kastro. To choose any particular taverna is difficult, the menus are similar (with the exception of Nikos) and most serves good food. One has to go by what looks nicest. And basically all tavernas look nice, so it's really hard to choose. There are also two gyros places serving excellent gyros.