I have visited a countless number of harbour promenades during my many trips to Greece, many are pleasant, but not many are as pleasant as the one in Pythagorion. It is both charming, touristy and cosy at the same time, here are lots of tavernas and bars, along the quay the big luxury boats lie beside sailboats, excursion boats and fishing boats. Ferries to, inter alia, Leros, Lipsi and Patmos departs from the pier (also a breakwater) at the far end. The statue of the mathematician Pythagoras - the actual emblem of Pythagorion - stands on the other pier (or breakwater).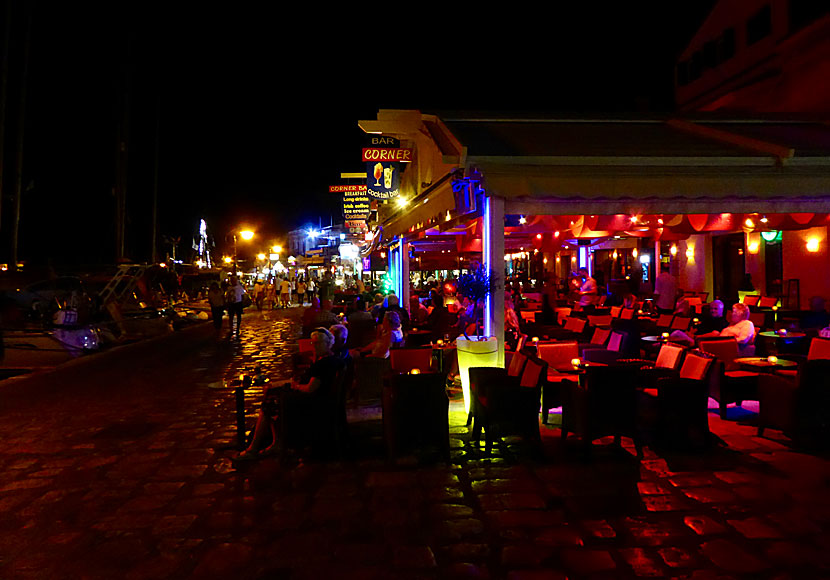 Pythagorion in the evening.
The nightlife in Pythagorion is quiet, although there are clubs that open late and close early. Almost all tourists, and many Greeks for that matter, start the evening with a drink or a glass of wine at one of the many bars on the harbour promenade. The bar we think is nicest is Gregory's bar (turn right if you are coming via the main street).
Some of the tavernas along the harbour promenade are nothing but tourist traps, go for the gut feeling when choosing a taverna and try to ignore all the tiresome barkers. There are some tavernas on the harbour promenade that stand out among the crowd, one of these is Restaurant Elia, located quite close to the breakwater where Pythagoras stands statue. Here, the Swedish-speaking owner Michalis cooks fantastic food. Ever since Michalis opened, there have been long queues for the restaurant. Reserve a table.
Restaurant Elia on the harbour promenade in Pythagorion.
The best restaurants are located in the alleys, if there are many Greeks in a taverna, it usually guarantees good food and low prices. In my opinion, the absolute best taverna in Pythagorion is Esperides. They serve incredibly good Greek food, (just the thought of the food makes my mouth water), add fantastic service and reasonable prices and you have the perfect taverna. Esperides is located on a cross street to the right of the main street, if you are coming from the harbour promenade. Feel free to book a table.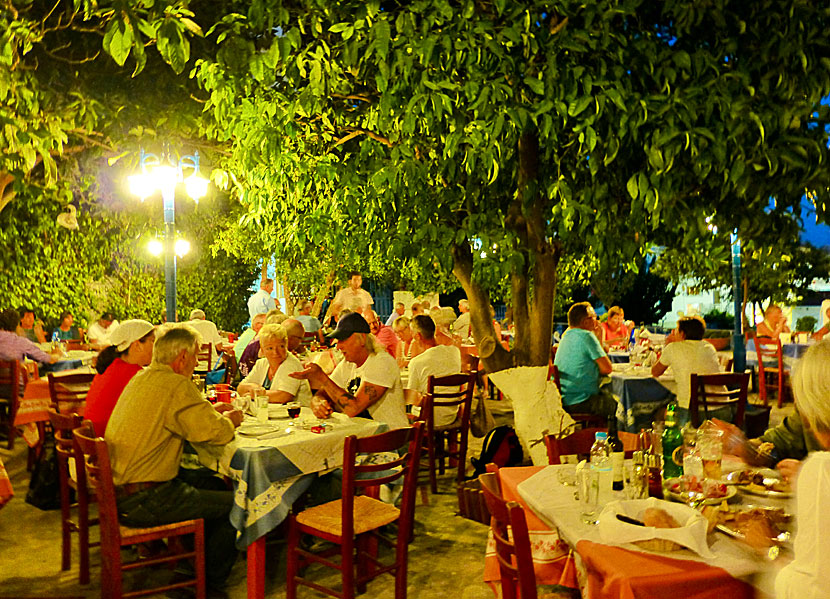 Restaurant Esperides in Pythagorion.
Further up in the same alley as Esperides lies Restaurant Irodion, also a very good taverna. Here, too, there are usually a lot of people so I recommend you to reserve a table, even if it is boring to have to do it on your holiday.