One of the best tavernas in the alleys is Malamatenia, located on a small square with a church that gave the taverna its name. The food is superb and reasonably priced, the service is familiar and entertaining, and the location is perfect. Good old-fashioned Rebetika music is played over the loudspeakers - what more can you ask for. The friendly owner Pavlos is married to a Finnish and he has lived in Finland for many years. The wife is a photographer, some of her photos is hanging inside the taverna.
Another favourite taverna is Aithrio at Palladas square not far from the waterfront. Aithrio is almost always full. Anything else would be strange, it is hard to find tastier food anywhere else. The staff is very friendly, the atmosphere is relaxed and it is easy to happily be seated here all evening.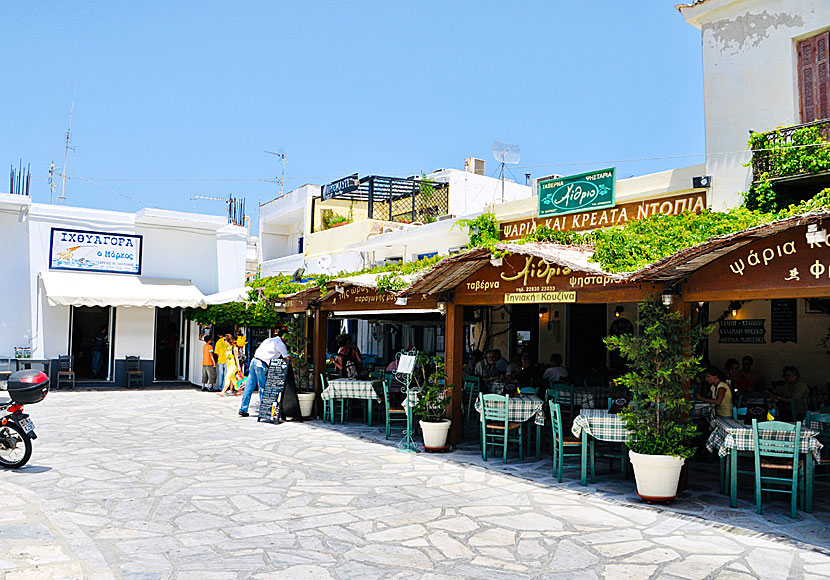 Taverna Aithrio. The fish shop where the pelican Marko lives, is to the left.
Beside Aithrio is a fish shop called Markos. If you order fish at Aithrio you follow the waiter into the fish shop and choose out the fish you want. Just such a thing. A pelican called Markos lives in the fish shop. It behaves more like a dog than a pelican, in the evenings he usually sit and preen his feathers and he looks pretty cute. At night he sleeps inside the fish shop, there is a tub with fish on the floor if he would wake up and be hungry.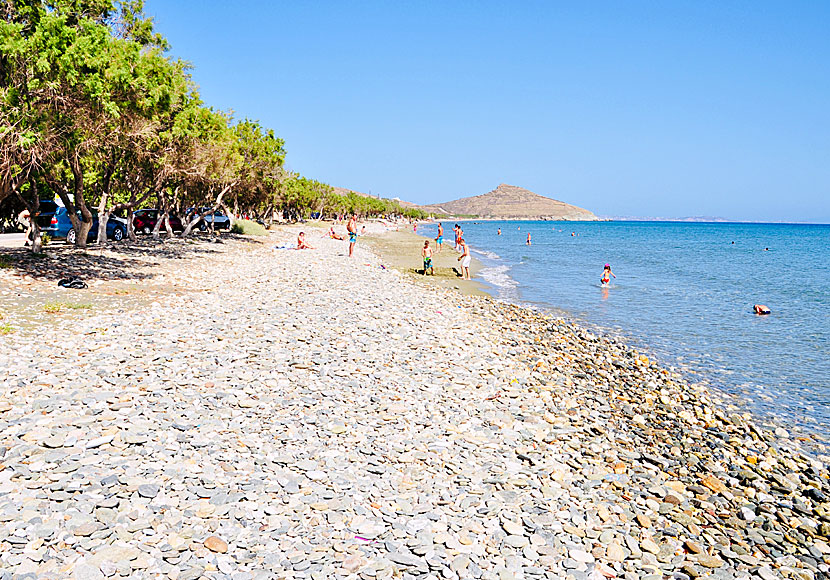 There are no beaches in Tinos Town. The nearest beaches are Agios Fokas just east of the town, and Kionia a few kilometres to the west.
ACCOMMODATION IN TINOS TOWN
Most people who travel to Tinos stay in, or near, Tinos town. Many come to visit the church, and then it's advisable to stay as close as possible. Not least if you're going to crawl to the church. Then you certainly want to have close to your accommodation. There are not as many simple family pensions as it is on other Cycladic islands. However, there are a lot of hotels, especially along the waterfront.
Nikoleta Rooms is very popular among the readers of Kalimera (the Swedish version of Kalispera). I myself have not stayed there, but I have met Nikoleta several times and she is a very friendly person. Nikoleta's daughter Clery, who is also super friendly, has a hotel called Altana Hotel. I have stayed there and I will happily do it again.