Parikia is one of Greece's busiest ports. If you are travelling around in the Cyclades you will end up here sooner or later, whether you like it or not. The bustling port is normally full of travellers who had just arrived or is on the way to leave the island. Travel agencies crowd together with letters of rooms, scooter and car rental places, fast food places and tavernas.
In the midst of this chaos stands a windmill, many sits and waits for ferries here. The windmill is depicted on many postcards and is something of a trademark of the island. Another important building, also well-photographed, is Panagia Ekatontapiliani located in the city park, not far from the port.
In the middle of Parikia is a small beach which is good enough for a dip, but it is not a beach where you want to spend a whole day.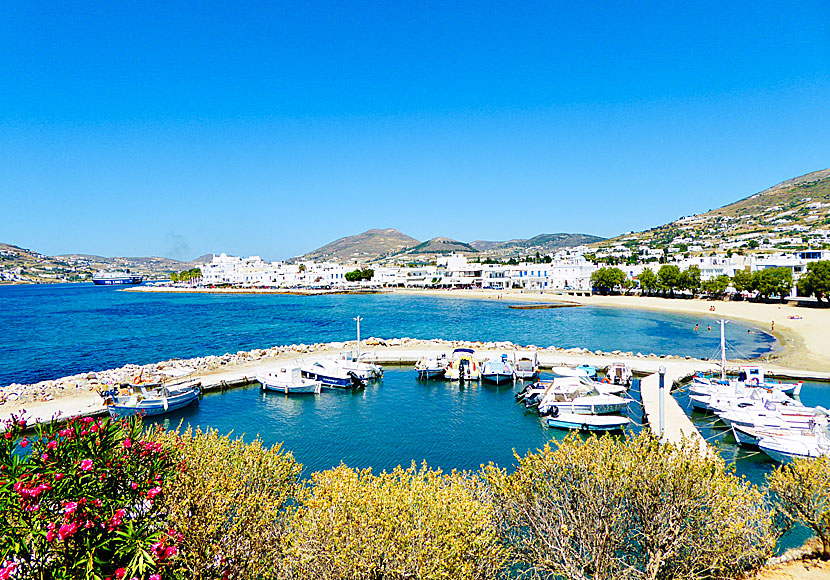 Luckily you are close to two good beaches: Livadia and Krios. Livadia beach about 700 meters north of Parikia is a much better option. Livadia is a popular tourist large with several taverns and boarding houses. After Livadia are Krios beach considered by many to be the best beach around Parikia. For Krios you can go beach boat from the port of Parikia, or are you here on your own.
Read about Livadia and Krios here »
ACCOMMODATION IN PARIKIA
Just like in Naoussa, there is a huge range of accommodation in Parikia. In other words, it is difficult to choose where to stay. The first thing to decide is whether to stay in the Parikia, or at Livadia beach where there are also many pensions. Select Parikia and you want city life, choose Livadia if you want really close to the beach.
Below are tips on good hotels in Parikia.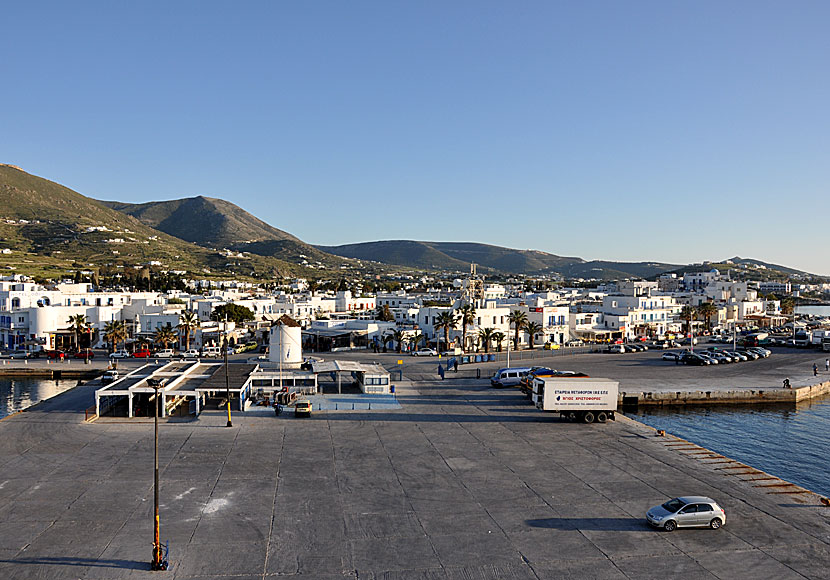 Parikia seen from a ferry. That there are so few people in the picture is because the photo was taken in April.
The bus stop is to right in the photo. From there, buses go to Aliki, Lefkes, Naoussa, Piso Livadi, and the port of Pounda, if you're going to Antiparos.