When you have finished resting, continue the path after Agios Ioannis. When you see a lush ravine in the mountains to the right, you can choose to turn right, or continue the path (it makes a sharp turn to the left) to the abandoned village of Ghera. If you choose to walk to Ghera (which I recommend), simply walk until the path ends. Then you are in Ghera.
The today uninhabited village of Ghera, earlier revived during the summer months when about 300 people lived here to take care of their cultivations and animals. Only a few people stayed over winter. Today there is not much left of Ghera, but the village is still worth a visit, not at least for the beautiful hike there.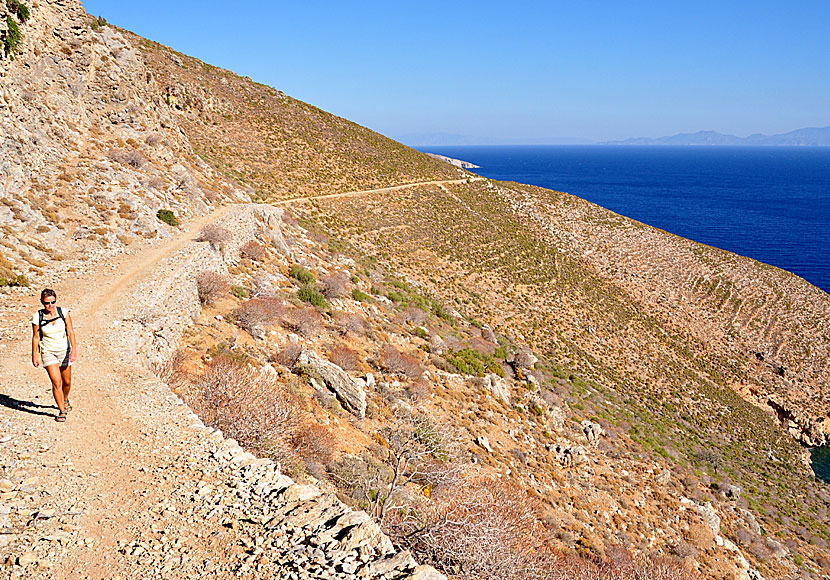 On a hike to Ghera where you can see a lot of birds.
To get back to Livadia again, walk back the same way, or walk up in the ravine mentioned above, and follow the path up in the mountain. After a while the path ends and a dirt road begins. Follow the dirt road until you see Livadia from above. The view is magical to say the least. (See photo above to the right.)
When you have rested, and are tired of looking at the beautiful scenery, aim at the asphalt road that you see in front of you. Walk until you reach a few road signs. Here, in the bend of the road, you can choose to hike down to the beach of Tholos beach, or turn right down to Livadia. I guess that you choose the latter. :-) A big reward are waiting for you in Livadia: a refreshing swim and a cold beer!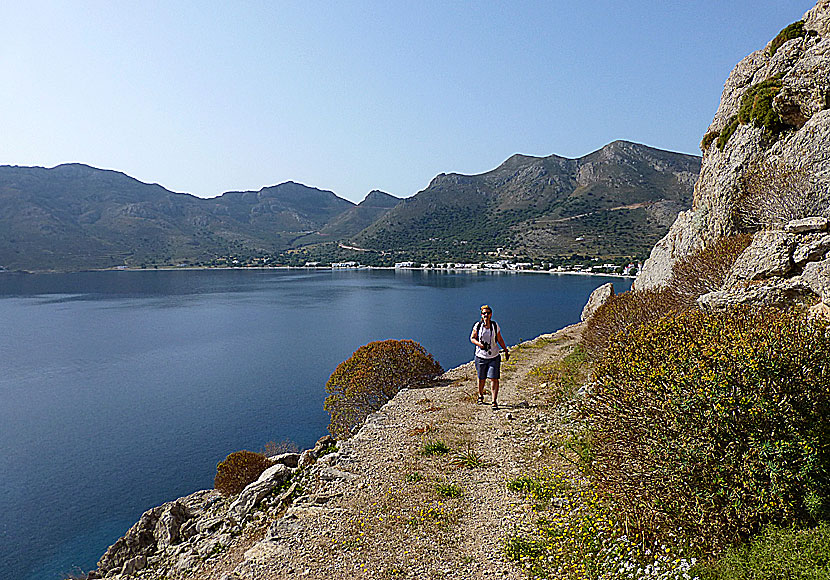 The picture above is from the hike to Lethra beach.
There are many other lovely hiking routs, including the one to Lethra beach which is described under the heading Beaches, I can also recommend the easy hike from Livadia to Mikro Chorio. More adventurous hikes are to be found on the north-western parts of the island. A real challenge is the hike from the monastery of Agios Panteleimon to Eristos beach. To do this hike you have to be an experienced hiker.