Kos is a big island with many inhabitants and of course it is reflected in the traffic, which is quite intense, especially in and around Kos Town and along the main road down to Kefalos. Some people drive like crazy and it's always important to be alert and follow the traffic rules, even if nobody else seems to do it.
BY CAR, SCOOTER AND BICYCLE
If you are going to see all of Kos, you should rent a car since the distances are quite long. For example, to one of my favourite beaches Agios Theologos, it is 45 kilometres to drive from Kos Town. I've driven that route with a scooter and I can assure your that it was a tough ride.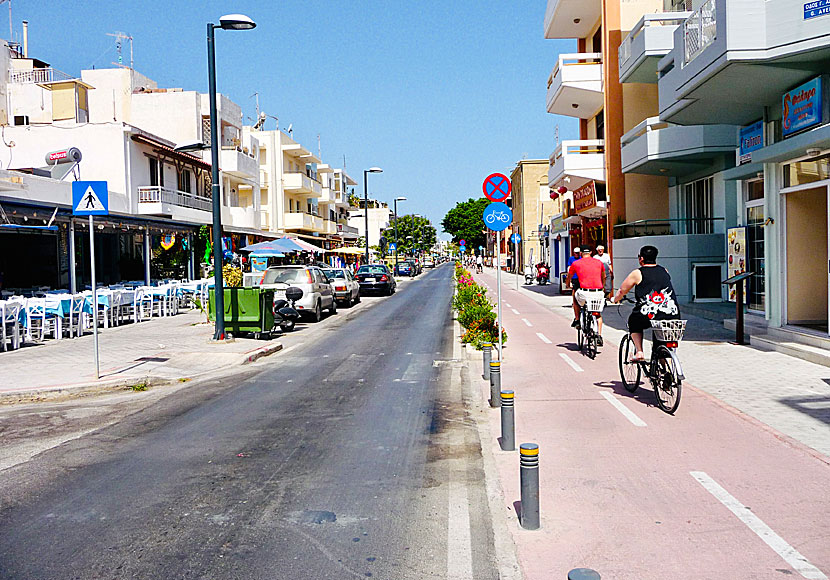 Hiring a bike is common. There are even bike paths in Kos Town.
If you have not planned to drive far, you'll do with a scooter, or bike if you prefer it. Kos Town, and the coastline west of Kos Town, is flat like a pancake and very bicycle-friendly. Cycling tourists are a common sight, sometimes it's a bit like watching the Tour de France. The municipality has built cycle lanes to the nearest beaches.
There are a large number of outlets in Kos Town, as well as in all major tourist resorts. You can also rent a car at the airport, it is a good thing to book it from home and pick it up when you arrive at the airport.